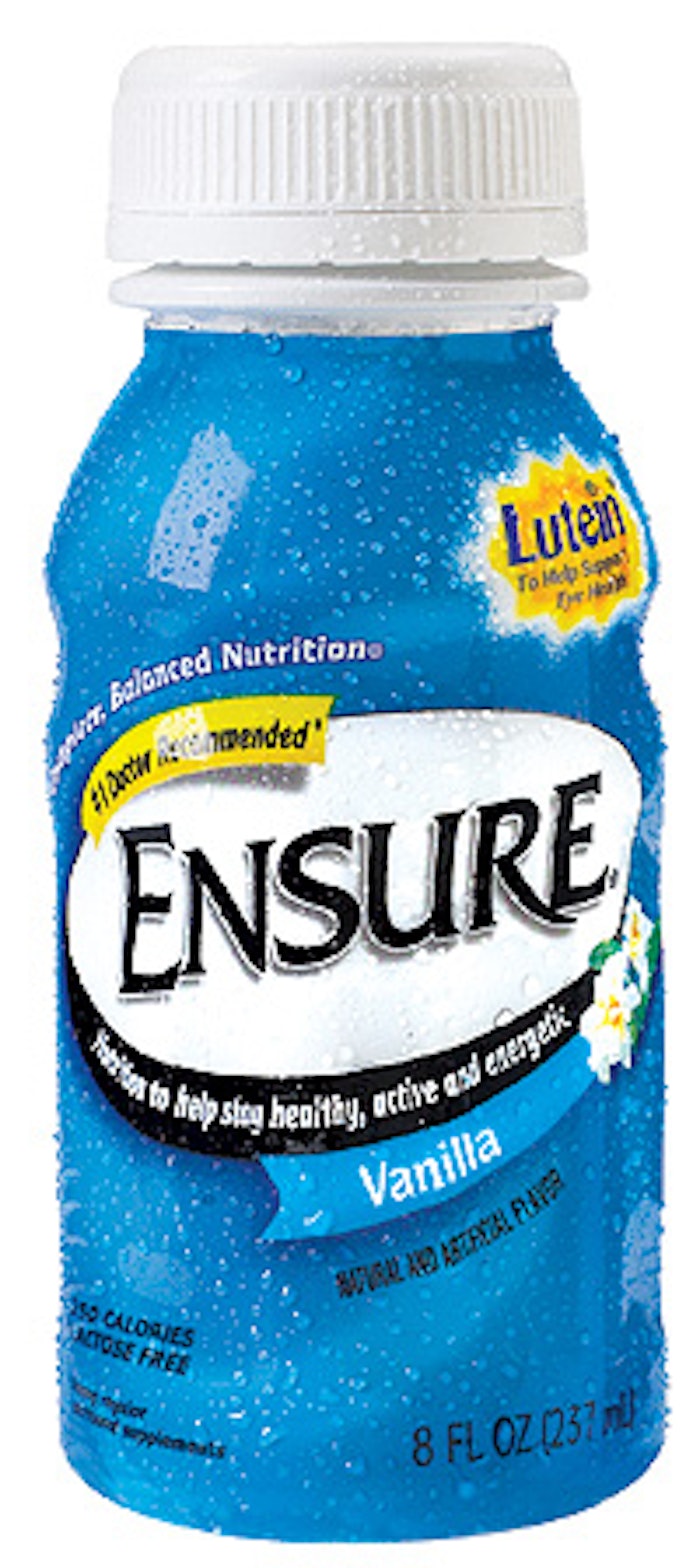 The Columbus, OH, firm is putting its 8-oz Ensure adult nutritional products in a multilayer extrusion-blown barrier bottle with a threaded, reclosable closure. The new package replaces a thermoformed plastic barrier can plus double-seamed steel end.
Like its predecessor, the filled and capped bottle is sent through a retort to render the product inside shelf stable at ambient temperatures for about one year. The six-layer, 24-g bottle has what Mike Wallace, director of process and package development, describes as a "polypropylene/EVOH structure." The proprietary bottle is blown by Owens-Illinois on a quad-parison wheel system in a plant not far from the Alta Vista, VA, plant where Ross Products fills the container.
Fast new line
Wallace says a new line was installed to fill the innovative package, but he's reluctant to identify suppliers or quantify filling speeds. He does say the line is "substantially faster than any of our other filling lines."
The eye-catching, full-body shrink-sleeve polyvinyl chloride label is reverse-printed in seven colors on a gravure press by American Fuji Seal. The 40-mm closure, he adds, is a two-piece composite from Crown Cork & Seal that includes a breakaway band for tamper evidence. Injection-molded of PP, the closure has a stainless-steel disk added to it by Crown in a subassembly operation. In the disk is a groove filled with a sealing compound that mates securely to the finish when the cap is torqued down. "We've used millions of these closures on our other products," says Wallace. "It provides a safe, reliable, hermetic seal as well as ease of opening."
Consumer conveniences
Reclosability, ease of use, and portability are the package properties Ross Products was after, says Wallace. "Listening to the consumer is an important part of our business," he adds, "and we try to provide them exactly what they're looking for."
Cost of the new package, says Wallace, is comparable to the plastic can/steel end that preceded it. The bottles began reaching store shelves in early July and will be available nationwide by end of summer. Consumers pay about $1.50 at retail for the 8-oz bottle.
Companies in this article