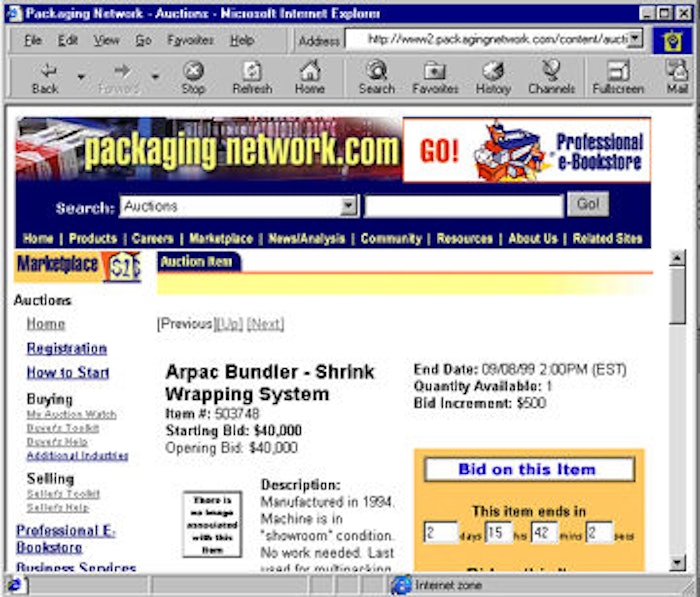 The question is, will people buy a $50ꯠ packaging machine--sight unseen--over the Web? At best, the answer at this early stage is a murky "Who knows?" While several bona fide packaging equipment listings could be seen on the four auction sites reviewed here (with opening bids from $300 to $75ꯠ), we couldn't find a single bid on any machine on any of the sites.
First-generation auctions
Like the first generation of any computer-related product, the sites reviewed here have their share of pluses and minuses. In general, however, all seemed quite thorough, listing extensive detail on the machines, including photography. Virtually all of the sites line up a full complement of services to facilitate the transaction, including the all-important escrow service. (An escrow service acts as a neutral middleman to hold onto the cash while the buyer makes sure the machine is as advertised. This service, extremely popular for consumer-oriented auction Web sites, goes a long way towards reducing concerns about trading with unknown parties over the Internet.)
One site that's attempting to become an auction portal is TradeOut.com (www.tradeout.com). Its site lists auction categories for everything from furniture to livestock. On the day we visited, a featured auction was 10ꯠ packs of "AA" alkaline batteries, enough to power a Christmas morning for a medium-sized city.
To get to the packaging portion of the site, click "Search by cate-gory" on the home page and then "Packaging" under "General commercial equipment, parts and supplies." This auction site contains packaging machinery as well as unused packaging materials. The site features a concise page summarizing all of the packaging auctions, but it lacks categorization: Packaging materials are mixed willy-nilly with machinery. While it's not a big deal for the 18 auctions underway when we visited, it might become problematic as that number grows.
Another company that's gunning to be the big cheese of industrial equipment auctions is VerticalNet, which runs more than 40 industry-specific Web-based "communities," including one dedicated to packaging (www.packagingnetwork.com). Its packaging auction site can be reached by selecting "Auctions" from the drop-down menu at the top. (The packaging auction can also be reached via VerticalNet's www.industrydeals.com site.)
The site has some good features, including an "Auto Bid" feature that increases your bid automatically (up to a limit you define) if you are outbid. You can set up your own watch list of specific auctions, or you can watch a specific category.
However, that leads to the site's main drawback: Even though it's supposed to be a dedicated packaging auction, in actual practice the categories aren't packaging-specific. Rather, the categories listed represent all the industries VerticalNet serves, from "bioresearch equipment" to "photonics." Result: Packaging categories may be considered by many packaging visitors to be too vague to be useful, e.g., "food packaging equipment."
One site that appears to be more focused on packaging machinery is EquipNet Direct, at www.equipnetauctions.com. The site lists five major categories: packaging, printing, processing, testing and warehouse equipment.
Clicking on packaging leads to a page of honest-to-goodness packaging-specific categories, from bottle hoppers to tube fillers. There was a definite pharmaceutical bent, as three of the 14 categories listed were crimp cappers, cottoners and slat counters.
The site includes a host of ancillary services, including inspection, appraisal, leasing, rigging, refurbishment and training.
'Marketplace' vs auction
Perhaps one of the most interesting--and by far, the most packaging-specific--online marketplaces is that of iMark.com (www.imark.com). The company considers its site an Internet marketplace, not a traditional auction site. Sellers are free to list their equipment elsewhere and aren't bound to sell it exclusively via iMark's site. Sellers choose a winning bid, but it's the buyer who pays the 5% fee of the winning bid.
The logic, according to the company, is that buyers are motiviated to buy, because they have a need. Sellers may have some equipment sitting in a warehouse and may not be particularly motivated to sell. It's an interesting business model, and time will tell whether it works. (We browsed a test version of the site; the site's launch was scheduled for mid-September.)
But for our money, what we liked about iMark.com was that it appears to be focused heavily on packaging (and processing) machinery.
Not only are there detailed, packaging-specific equipment categories, the site offers extremely detailed searches that can be performed within a category. For example, as we were browsing the cartoners category, a cartoner-specific search menu allowed us to specify, for example, eight different carton styles, three different cartoner technologies, the level of automation, three different seal types, the number of tiers, and options such as integral erector or partition inserter. This search menu, which is highly machine-specific, is different for each packaging equipment category, whether it's labeling, form/fill/seal or case packing.
While the powerful search capability is probably unnecessary early on if there's only a handful of listings that can be browsed, it becomes a crucial tool down the road in the event the site fills out with hundreds of listings.
The costs
Except for iMark.com, the sites reviewed here charge the seller to participate in the auction. Listing fees range from nothing to $99 per auction listing. (Multiple like machines can be sold in the same listing.) Commissions, representing a percentage of the sale, range from 5% to 10% of the final sale price. Most of the sites reviewed here also allow companies to list equipment at fixed prices, much like an on-line classifieds service.
If industrial auctions even remotely follow the success of consumer-style auction sites such as eBay, they have the potential to offer packaging equipment buyers more equipment at better prices due to a market that's ostensibly more liquid. But packaging buyers must first be swayed to come to the party.
Companies in this article