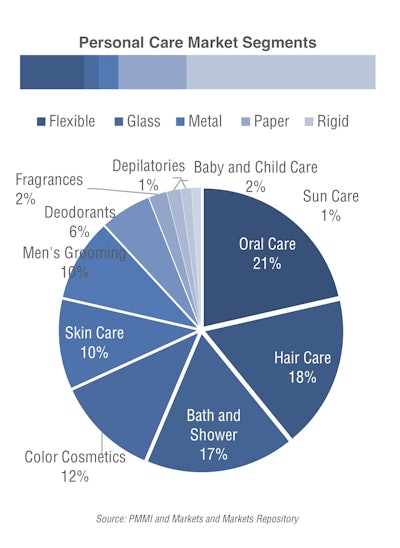 The personal care packaging market in North America was estimated to be 22.05 billion units in 2017. Apart from product formulations, consumers are very particular about how the product is packaged and the material used. Areosol cans are a notable exception, however.
Consumer trends call for wide-ranging sizes, ease of application, sustainability, and e-commerce. These trends are changing the market landscape and impacting packaging machinery selection.
The US was the leading contributor to the North American market with 70% of sales, followed by Mexico and Canada with 23% and 7%, respectively. Rigid packaging such as HDPE and PET bottles are the most common package types and will to continue commanding the market in the near future.
For premium products, even though glass is the most preferred choice in selective segments like perfumes and cosmetics, overall growth as a packaging material is expected to be slow.
Conversely, growth of standup pouches is expected to be in the double digits. These are user-friendly, more flexible, require less packaging material, and are cost-effective.
Overall, the use of metal packaging is expected to decrease by 5%–8% over the next five years, owing to their heavy weight and handling difficulty.
However, aerosol cans are still expected to grow by 2%, because they are increasingly used as packaging material for deodorants, fragrances, and skin care products based on convenient dispensing mechanism. In fact, ease of application has led consumers to actually prefer aerosol cans. This, despite the fact that aerosol cans are a combination of metal and plastic and do not recycle easily. This continued use of aerosol cans is a cause for concern among environmental advocates.
Growing concerns about a brand's environmental impact will drive more sustainable solutions. Several companies, including both personal care product manufacturers and packaging suppliers, already offer a wide range of products that utilize sustainable packaging.
Companies are also focusing on the development of packaging products with innovative dispensing. Easier-to-open caps, pumps and spray dispensers are popular closures in the personal care packaging industry.
For more on machinery buying trends, regulatory compliance, safety and track and trace, download a FREE copy of the white paper here.
Source: PMMI Business Intelligence, "Personal Care Industry Trends."
Listen to Love, Beauty and Planet's Global Brand Director, Sonika Malhotra, discuss her company's commitment to sustainable packaging.