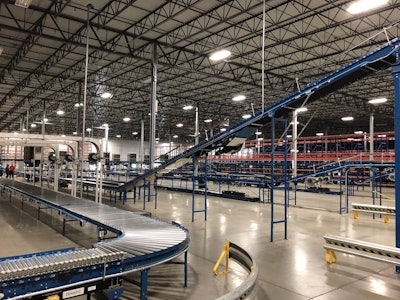 [This story originally ran 8/22/2018]
Third-party logistics provider ODW Logistics' 200,000 sq-ft technology center near Columbus, OH, is ready for multiple e-commerce customers/shippers.
The location provides ODW with a strategic hub located within a 10-hr drive to nearly 50% of the U.S. population and one-third of Canada. The Columbus center is equipped with technologies such as barcode scanning, manifesting software, static and in-motion scales, box dimensioning equipment, print-and-apply labelers, and sortation capabilities.
The technology center is set up for zone pick and pass with high and low velocity zones and has Very Narrow Aisle (VNA) dense racking and storage. A Tier1 warehouse management system (WMS) is used throughout the building.
"We are focused on delivering innovative supply chain solutions to middle market and growth-focused customers," says ODW Executive Vice President Jeff Clark. "This facility brings scalable, out-of-the-box e-commerce fulfillment to companies that serve key U.S. and Canadian markets."
These technologies continue to gain significance given that e-commerce represents the fastest-growing aspect of ODW's business, now accounting for about 30% of its volume.
Rising e-commerce demand has driven ODW's adoption of more warehouse technology and automation. A recent Business News story estimated there are 6.6 million unfilled jobs in the nation, whose impact is felt across numerous business sectors, including the healthcare and logistics markets.
"Finding workers willing to work in the warehouse is becoming a problem. Logistics service providers are beginning to think that robots are the answer," noted a late 2017 Forbes article. E-commerce, the story said, is creating an even greater need for workers. "When wages are high, or labor is difficult to attract, automation is a natural solution."
Tapping into technologies
All of those factors come into play at ODW Logistics, which provides integrated logistics support, including warehousing and transportation services for Consumer Packaged Goods (CPG) companies across multiple industries, including health and beauty aids (HBA), food and beverage, nutraceutical and medical device applications.
Clark says, "The challenge of an available workforce is not new, but it is having an impact on our operations. We're looking to more automated warehouse management systems and equipment to take labor out of some of our work processes."
Although the new Columbus technology center exemplifies the automation effort, these technologies are being deployed at many, if not all of ODW's 16 facilities, which serve primarily U.S. customers, but also accounts in Mexico and Canada.
Skin care, hair care, and cosmetics represent the bulk of ODW's HBA business, sold ultimately at mass merchandiser/big box retailers, or by professional dermatologists. Examples of nutraceuticals and medical devices would be formulas for elderly patients and infants, and devices such as feeding tubes sold to urgent care facilities.
To service these diverse business areas while addressing declining workforce availability, ODW has invested in several technologies, such as the following:
• Barcode printing and label print-and-apply equipment from both Zebra Technologies and Panther Industries that are now in use at all 16 ODW facilities.
• Warehouse management transportation systems from HighJump. Purchased in 2016, ODW has been gradually deploying the system and plans to ramp it up across all of its facilities.
• Automated logistics management equipment/IT from Savoye for product handling, pallet management, etc.
• Robotic A-frame, conveying and related systems provided by SI Systems that process up to 3,000 orders/hr.
Life as a 3PL
Clark explains that ODW provides distribution services for its clients, which own the inventories. "We warehouse everything from raw materials to finished goods, which we ship to our customer or their customers. That involves what we call Contract Logistic Services and Transportation Services. The former focuses on warehousing and fulfillment, including returns, manufacturing support logistics, or preparing/repackaging goods for their customers.
"The transportation portion is shipping goods to other carriers or direct to customers to ensure that products get to the right place, at the right time, and in the most cost-efficient means," he says. ODW ships about three-fourths of products by land; one-fourth by air.
Asked if ODW or its customers require pharmaceutical serialization, Marketing Director John Meier says, "to a point. We are not required to do serialization, yet we do lot coding, expiration tracking and flow tracking of those goods through the supply chain. We make labels for cases and pallets that track through the distribution channels. We don't create the initial code, but we'll create barcodes as needed by clients to enhance accuracy and track through the distribution process."
Although coding and labeling equipment serve as part of ODW's automation strategy to address labor shortages, the Columbus center is equipped with another important technology.
"In the A-frame robotic system from SI Systems, boxes pass along a conveyor and are filled with product by machine, which also closes the boxes," says Jason Streitenberger, Director—Solutions Team.
"And for parcel shipments," he adds, "we use Savoye's 'dimensional weight' system to produce customized shipping cases specifically for an individual product's dimension to better manage costs. For example, we might pack a pillow that only weighs a few ounces, but because of its larger size, the customer would typically need to use—and pay for—a larger box. With the Savoye system, we can customize a box to better fit the product at a more economical rate."
At this point, ODW ships only a limited quantity of temperature-sensitive goods. Says Meier, "We don't handle frozen goods, but we do see refrigerated products, primarily in food. Many of our customers, particularly in cosmetics, are concerned about product degradation when temperatures get too high, so we want to keep cosmetics at acceptable ambient temperatures."
Personal shipments
ODW recognizes a trend in personalized shipments with the growth of e-commerce and home healthcare. As a result, says Clark, "Our customers are asking us more often to ship in 'eaches,' or individual quantities direct to a consumer, or to a location with a smaller rate of consumption. Yet on the other hand, we are tasked with efficiently shipping larger quantities, so those varying fulfillment challenges are part of what we deliver as a third-party provider."
Looking ahead, he says, "E-commerce continues to drive our focus. We compete with big players in this space. Amazon is everywhere, and while they're not necessarily a competitor, we do ship some customer orders to them. We have to keep our warehouse, inventory and transportation costs competitive, and so our automated technologies help us do that while also addressing the labor situation."
Companies in this article