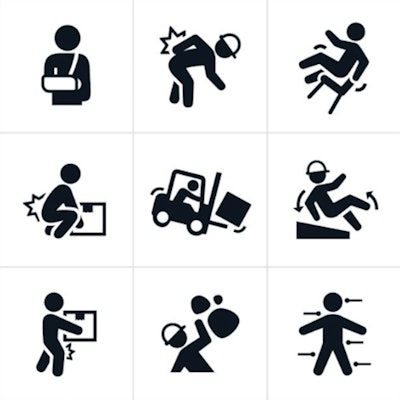 Using machine learning to analyze personnel risk
Many painful worker safety hazards that result in lost time are preventable.
A new study published in the Journal of Occupational and Environmental Medicine used machine learning to analyze worker's compensation data to identify high risk areas to focus on.
The study found that the workers in skilled nursing facilities are at the highest risk for severe (more than 7 missed workdays) ergonomic-related claims, while workers in the general freight trucking industry are at the highest risk for severe slip, trip, or fall claims.
In a National Institute for Occupational Safety and Health (NIOSH) interview, the study's lead author Alysha Meyers, Ph.D., explained, "Already, our findings are helping occupational safety and health specialists to focus their injury prevention efforts on high-risk occupations and industries. This activity is especially apparent in Ohio, where our study took place, but researchers in other states could use our study to develop similar approaches."
Young workers at risk
It may be counterintuitive, but "young workers (aged 15-24) suffer disproportionately from workplace injuries, with a nonfatal injury rate estimated to be two times higher than among workers age 25 or over," according to a report, Foundational workplace safety and health competencies for the emerging workforce.
Are your onboarding procedures robust? The report notes, "Although young worker injuries are a pressing public health problem, the critical knowledge and skills needed to prepare youth for safe and healthy work are missing from most frameworks used to prepare the emerging U.S. workforce."
Safety in the wake of mergers
Mergers and acquisitions happen quickly, which can have effects on safety. People want to get the most utilization out of their equipment. For example, a blister machine may be repurposed for packaging a new product, but people don't take into account that the machine is not built for potent compounds. Often, the proper assessment is not performed and controls may not be in place for worker safety.
Additionally, experts frequently see discrepancies between global procedures and actual packaging practices, so a site-level, equipment-specific evaluation is critical to ensuring personnel safety.

Safety incident at bag sealer
In March 2018, OSHA announced that it cited a flexible packaging manufacturer for serious and repeated violations of machine safety procedures. The investigation was initiated after an employee suffered a partial amputation of his thumb while attempting to clear a jam on a bag sealing machine. The company was cited for failing to adequately train employees on lockout/tagout procedures and failing to complete required annual audits of the company's safety processes.
The high cost of fatigue
Healthcare packaging is quite often a 24/7 operation, meaning that workers must work night shifts, long shifts or irregular shifts.
The National Safety Council (NSC) reports that in the U.S., more than 43% of workers are sleep-deprived. Those on rotating shifts are considerably more vulnerable.

Fatigue-related, health-related lost productive work time to employers costs an estimated annual cost of $136.4 billion.

Per the NSC Fatigue Cost Calculator (which is free to use) a U.S. employer with 1,000 workers can lose about $1.4 million dollars each year in accidents, diminished productivity, absenteeism, and more.
Extended shifts may also prolong exposure to noise, chemicals and other hazards, which could mean employees are exceeding established exposure limits.
Chemicals and danger to hearing
If your process involves pharmaceuticals or solvents with ototoxicants, take note: The CDC and OSHA released a bulletin alerting companies that several studies have suggested that some ototoxic chemicals might exacerbate noise-induced hearing loss even though the noise level is below OSHA's Permissible Exposure Limit (PEL). Examples of these chemicals include aminoglycosidic antibiotics (active against gram-negative bacteria), certain analgesics, diuretics and styrene. Also from the bulletin:
There is growing concern that ototoxicant-induced hearing loss may go unrecognized since the measure for hearing loss does not indicate the cause. The bulletin notes, "audiometric tests are powerful tools that show hearing impairments (i.e., threshold shifts); however, they do not differentiate between noise and ototoxic causes."

Hearing loss can be even greater with exposure to both ototoxic chemicals and noise than exposure to either noise or the chemical alone, since many ototoxic substances have a greater-than-additive effect on hearing loss.
For more information on this serious issue, visit: https://www.cdc.gov/niosh/topics/noise/