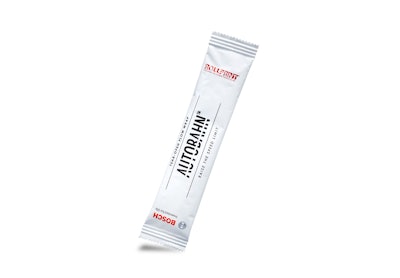 Yet, those challenges are being met in commercial applications by both an end user of blow/fill/seal liquid vials in the pharmaceutical industry and by companies providing diagnostic products, through the use of Autobahn™ Tear-Open Flow Wrap from Rollprint Packaging Products. Autobahn was awarded Flexible Packaging Association's Gold Award for Technical Innovation March 13, 2018 during FPA's 62nd Annual Flexible Packaging Achievement Awards ceremony in Naples, FL.
Although those end-user companies prefer not to be identified, Rollprint quotes a product line manager at a major pharmaceutical company that packages blow/fill/seal liquid vials, who says, "You turn the flow wrapper on and this Autobahn material just works. …We chose [Autobahn] because we have multiple product changes per day. Starts and stops are part of our business model. A must-have for us in the selection process was a material that allows incredible forgiveness without sacrificing the flow wrappers' maximum speed capability."
Reportedly, the company's use of Autobahn allowed them to move from a rigid tray with a barrier lid that was packaged in a pouch to the use of a flow wrap. As a result, a two-step packaging process was transformed into a faster single step that uses about 60% less material by weight.
Rollprint indicates the flow wrap is used for packaging "everything from small, single vials to 'boxes' with a large format" that stand several inches tall.
The flow-wrapping process itself presents competing goals in that to minimize user costs, the packaging line needs to run as fast as possible, yet deliver hermetic seals that are easy for consumers to open to access the product inside. Autobahn, which Rollprint refers to as "the next generation in flow-wrap packaging," achieves these dual goals via the use of sealants designed with low-seal initiation temperature, excellent hot tack, and high-caulkability characteristics.
Materials may need scoring in order to meet high-speed requirements. With other materials, this results in a sealant with high elongation that stretches rather than tears, causing user frustration when they try to open the flow-wrapped pack. Rather than requiring a capital equipment investment to score the material to compensate for these tearing challenges, Autobahn uses a proprietary process that harmonizes the surface and sealant layers for maximum performance.
The layers work together to create a clean easy tear from any location along the edge of the seal. The company says the use of chemistry and physics optimize the natural tear properties of the structure and eliminate the need for scoring. It also eases the burden of manufacturing operations that demand multiple daily product changes.
The sealant chemistry is engineered to allow ultra-high-speed sealing. The supplier reports, "Traditional sealants max out around 150 packages a minute, Autobahn can achieve speeds approaching 400 packages a minute."
Other key Autobahn benefits include:
• Manufacturing. To ensure a seamless process when loading the product as well as forming the package, Autobahn maintains a tight Coefficient of Friction (COF) for optimum performance.
• Sustainability. The flow-wrap format for packaging products is said to require approximately 6% less material than for a two-dimensional pouch. A flow-wrap line using Autobahn can yield twice as much packaged product as a standard pouch line in the same amount of time, according to Rollprint.
• Printing and shelf impact. Autobahn can be made white, silver, or transparent for easy viewing of graphics. The flow-wrap approach maximizes the package real estate available for graphics.
Companies in this article