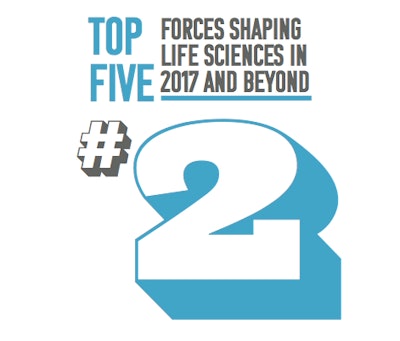 In addition to complying with numerous regulations, pharmaceutical and medical device manufacturers also face the challenge of ever-rising consumer demand. Increased insurance coverage rates in the U.S., an aging world population, and improved healthcare availability in emerging markets have all contributed to the growing demand for pharmaceuticals and medical devices.
To meet this demand, manufacturers are producing products at a faster rate, while also adhering to stringent regulations. As a result, many manufacturers have turned to smaller batch runs with greater product diversity and more frequent changeovers, requiring machines that are both fast and versatile.
Automating and integrating both physical processes and software systems will play a crucial role in a manufacturer's ability to keep up with demand, yet two out of five companies report they have not started the integration process. OEMs can be a valuable partner in adjusting to process changes by providing manufacturers with innovative, flexible machine builds that are designed to integrate seamlessly into production lines and software systems.
Many of the leading suppliers of machinery and materials for pharma and medical device packaging and logistics teams will be exhibiting at Healthcare Packaging EXPO in Las Vegas, September 25-27, 2017.
See all five top business drivers here.
Source: 2016 PMMI Pharmaceutical and Medical Devices – Trends & Opportunities in Packaging Operations.
Companies in this article