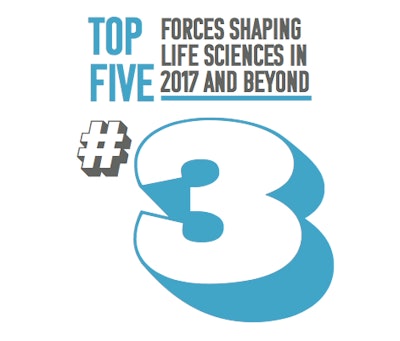 As global demand continues to rise for pharmaceuticals and medical devices, the markets that both industries operate in have shifted, presenting new challenges to manufacturers. The decline of blockbuster drugs, the explosion of biologics, and the growing use of generics have all transformed the pharmaceutical industry by placing a new emphasis on personalized care and forcing manufacturers to reevaluate their production locations to be in closer proximity to the consumer.
Some pharmaceutical manufacturers are also altering the fundamental processes behind production, as advances in physical and data automation have facilitated the switch from batch-based processing to continuous processing.
On the other hand, the medical device industry has been revolutionized by a redoubled commitment to research and development, as well as a focus on value-based healthcare, which has changed the equation on where and how devices are manufactured.
In order to thrive under these conditions, manufacturers have pivoted to operational solutions concentrated around faster production speeds, shorter batch runs, specialized packaging, and high-value items. Manufacturers are also evaluating where their production facilities are located, with many seeking to move production as close to the point of sale as possible, even if it requires constructing new facilities in foreign countries.
OEMs should approach manufacturers' challenges with a global perspective in mind and explore new ways to connect with their customers and their machines, especially considering over half of the companies from the 2016 PMMI Pharmaceutical and Medical Devices Report are interested in increasing their use of remote diagnostics in the near future.
Many of the leading suppliers of machinery and materials for pharma and medical device packaging and logistics teams will be exhibiting at Healthcare Packaging EXPO in Las Vegas, September 25-27, 2017.
See all five top business drivers here.
Source: 2016 PMMI Pharmaceutical and Medical Devices – Trends & Opportunities in Packaging Operations.
Companies in this article