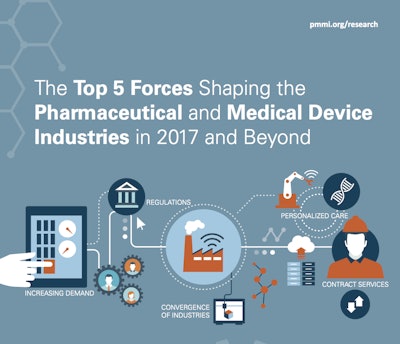 As the market has evolved, manufacturers in both industries have been presented with a fundamental challenge: adjust to a new business environment in an open, forward thinking way to maintain an innovative edge. Despite operating in different industries, pharmaceutical and medical device companies often share a number of similar hurdles in their efforts to adapt to the market. Both industries must balance complex regulations, rising consumer demand, and shifting market realities. These are important forces manufacturers need to consider when examining major production changes, such as machine purchases and new automation strategies.
In order to keep up with the fast pace of change, about half of all manufacturers in both industries are turning to contract services to meet demand. In many cases, the line between pharmaceutical products and medical device products has been blurred; the future of both industries is dynamic and complex, as products become more intertwined.
1. Regulations: A Top-of-Mind Concern
As the pharmaceutical and medical device industries continue to evolve, one topic sits prominently in all manufacturers' minds: regulation. Government regulation has presented new hurdles to the pharmaceutical and medical device industries within the last decade, requiring manufacturers to adapt their processes to meet changing production demands of speed, flexibility, and safety while continuing to comply with regulations.
For the pharmaceutical industry, the track and trace requirements involved with serialization (and eventual aggregation in 2023) require new sensors, software, and automated machines, as well as new integrated systems to track, monitor, and verify products throughout the supply chain. For medical device makers, the Unique Device Identification (UDI) requirements have imposed new class-based regulations on medical devices, with each class outlining mandatory changes to development, testing, reporting, and marking requirements.
Complying with these regulations can often require a significant investment in machinery and software systems, with two out of three companies reporting that they will be spending more on capital equipment in the next two years. Adhering to regulations is particularly burdensome for smaller manufacturers with less capital to expend.
Healthcare manufacturers are looking to OEMs to help with regulation compliance strategies by adapting their machines to meet data acquisition and storage requirements for marking and tracking products which includes coding and vision inspection systems. When evaluating a future machine purchase, manufacturers report they are most concerned with the speed and flexibility of changeovers, the efficacy of the preventive maintenance features, and the ability to automate cleaning processes.
2. Increasing Demand: A New Consumer Market
In addition to complying with numerous regulations, pharmaceutical and medical device manufacturers also face the challenge of ever-rising consumer demand. Increased insurance coverage rates in the U.S., an aging world population, and improved healthcare availability in emerging markets have all contributed to the growing demand for pharmaceuticals and medical devices. To meet this demand, manufacturers are producing products at a faster rate, while also adhering to stringent regulations. As a result, many manufacturers have turned to smaller batch runs with greater product diversity and more frequent changeovers, requiring machines that are both fast and versatile.
Automating and integrating both physical processes and software systems will play a crucial role in a manufacturer's ability to keep up with demand, yet two out of five companies report they have not started the integration process. OEMs can be a valuable partner in adjusting to process changes by providing manufacturers with innovative, flexible machine builds that are designed to integrate seamlessly into production lines and software systems.
3. Personalized Care: A Shift in Production Focus
As global demand continues to rise for pharmaceuticals and medical devices, the markets that both industries operate in have shifted, presenting new challenges to manufacturers. The decline of blockbuster drugs, the explosion of biologics, and the growing use of generics have all transformed the pharmaceutical industry by placing a new emphasis on personalized care and forcing manufacturers to reevaluate their production locations to be in closer proximity to the consumer.
Some pharmaceutical manufacturers are also altering the fundamental processes behind production, as advances in physical and data automation have facilitated the switch from batch-based processing to continuous processing. On the other hand, the medical device industry has been revolutionized by a redoubled commitment to research and development, as well as a focus on value-based healthcare, which has changed the equation on where and how devices are manufactured. In order to thrive under these conditions, manufacturers have pivoted to operational solutions concentrated around faster production speeds, shorter batch runs, specialized packaging, and high-value items. Manufacturers are also evaluating where their production facilities are located, with many seeking to move production as close to the point of sale as possible, even if it requires constructing new facilities in foreign countries.
OEMs should approach manufacturers' challenges with a global perspective in mind and explore new ways to connect with their customers and their machines, especially considering over half of the companies from the 2016 PMMI Pharmaceutical and Medical Devices Report are interested in increasing their use of remote diagnostics in the near future.
4. Contract Services: Filling in the Gaps
One group that stands poised to benefit from the evolution of the pharmaceutical and medical device industries are contract manufacturers (CMOs) and contract packagers (CPOs). As manufacturers strain to balance regulation compliance, expanding consumer demand, and shifting market realities, the option to contract out a portion of the production and packaging process becomes a viable strategy.
Currently, about one third of all processing and packaging in the pharmaceutical and medical device industries is handled by contractors. Manufacturers are utilizing contractors to shore up production shortages, run smaller batches that would slow down production in-house, and to manufacture products that require highly specialized equipment (such as blister packs and pre-filled syringes). Occasionally a company will send all of their processing and packaging needs to a contractor, giving rise to the concept of "virtual manufacturing," which allows companies to operate without investing in any physical production equipment.
Contractors are also typically well versed in regulation compliance requirements, and may in some cases be ahead of the game when it comes to implementing new equipment and process solutions. As the use of contract services continues to grow, CMOs and CPOs will need to expand their capacity while maintaining or increasing their versatility to meet rising consumer demand.
Contractors are more interested in modular machine designs that can be changed or moved on the fly, and that are capable of accommodating a wide variety of unique product and packaging configurations.
5. A Convergence of Industries: The Future is Collaboration
As product technology advances and the general demand for healthcare expands, pharmaceutical and medical device manufacturers are blurring industry lines as innovative products continue to emerge. In order to address healthcare needs, manufacturers are exploring new technologies that enable better patient compliance, utilize unique drug delivery methods, and improve package integrity and product safety.
Device manufacturers have partnered with pharmaceutical companies to develop implantable devices that perform tests and dose medication automatically.
Pill bottles can be equipped with digital timestamp read outs that remind patients to take their medication, and are able to be monitored remotely by a doctor to ensure dosages are taken correctly.
Small adhesive patches are packed into capsules that when swallowed, dissolve and adhere to the intestinal wall to deliver time released medication.
Transdermal patches embedded with an array of small needles are being tested to replace the traditional syringe injection method for vaccines.
Do these new breakthroughs in innovation belong to the pharmaceutical industry or the medical device industry? The simple answer is both. As healthcare treatments become more complex, the pharmaceutical and medical device industries will continue to merge their technologies and expertise to deliver patient solutions that combine both pharmaceuticals and medical devices into one simple and convenient product.
Manufacturers will need to have integrated production and innovative products to differentiate themselves from the competition, and OEMs should be prepared to provide them with personal attention and custom solutions to address their individual challenges.
The Takeaway: Manufacturers Need a Partner
As pharmaceutical and medical device companies endeavor to keep up with market demand, they will search for trusted partners to help them comply with the maze of complex regulations. Manufacturers will also need assistance to guide them through the process of implementing new technology, especially automation and data management solutions, which will play a crucial role in a manufacturer's ability to operate efficiently in a growing market. OEMs and technology suppliers are perfectly situated to offer their experience and expertise to manufacturers as an invaluable tool in resolving future challenges; expertise in automation, integration services, and regulation compliance are key. OEMs and technology suppliers can form stronger relationships by working collaboratively to address a manufacturer's unique needs on an individual level, in order to achieve a mutually beneficial partnership.
The information presented in this whitepaper is based on the report findings from the 2016 PMMI Pharmaceutical and Medical Devices – Trends & Opportunities in Packaging Operations Report. The report is a compilation of sixty interviews with industry professionals from pharmaceutical, medical device, and contract service companies who shared their experiences in complying with tracking regulations, operational challenges, and what their equipment needs will be in the future.
Companies in this article