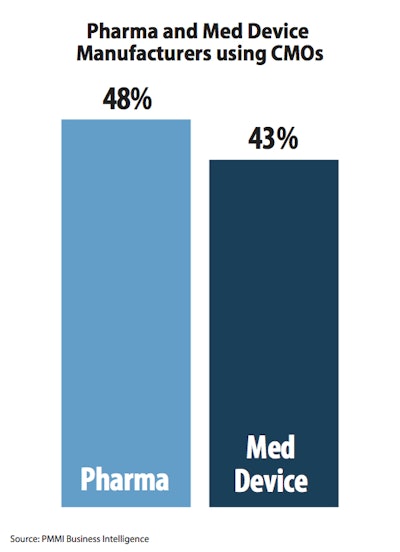 Respondents revealed about a third of packaging and manufacturing is outsourced to contractors. Fifty-five percent of respondents in pharma currently using CMOs predict increasing outsourcing. A whopping 78% of med device manufacturers using CMOS plan to increase their reliance on contractors.

One operations manager at a contract packaging facility said, "In the last five years there has been a sharp uptick on expanding equipment capabilities. During this time frame we increased capacity with line integration."

The reason for increased outsourcing by brand manufacturers include patents expiring, rising demand, counter balancing the rise in R & D costs, meeting increasing regulatory pressures and to position the CMO for the rise of virtual manufacturers.

The brand manufacturers talk about what they need in a CMO. "It's all about cost reduction and reducing capital expenses," said one plant manager. Other reasons include speed-to-market considerations, flexible line changeover for shorter runs, expertise with compliance, validation and documentation.
Source: PMMI Business Intelligence, Pharmaceuticals and Medical Devices 2016: Trends and Opportunities in Packaging Operations.
Click here for the entire 58-page report.