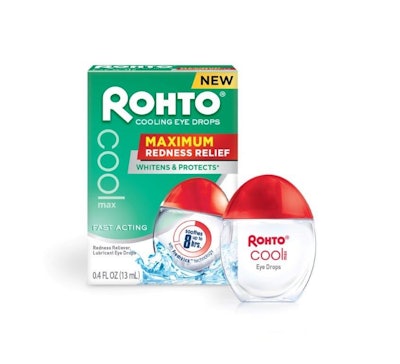 Rohto Pharmaceutical Co., Ltd., Osaka, Japan, considers itself a pioneer in over-the-counter medicines and consumer healthcare products.
That continues with the company's recent introduction of Rohto Cooling Eye Drops, sold at $5.99 in drugstores, mass merchandisers, and supermarkets throughout the U.S. Rohto Cooling Eye Drops come in an eye-catching, clear bottle that has a non-squirting, single-drop dispenser said to be the only packaging of this kind on the market. The dispenser is sold within a colorful paperboard carton.
The Mentholatum Company, the Orchard Park, NY-based wholly owned subsidiary of Rohto Pharmaceutical Co., Ltd., originally launched Rohto Zi and Rohto V in the U.S. in 2001. According to Mentholatum, the product is manufactured and packaged by Rohto at its state-of-the-art facility in Japan.
The egg-shaped dispenser is made of a crystal-clear molded PET—a nonreactive and stable material.
When planning the design of the packaging, Rohto kept the following requirements in mind:
• Be easy to use—achieved with an open/close mechanism and single-dose dispenser
• Easy to open, with a twist-off cap that snaps back on to close and seal the dispenser
• Portable (fits in consumers' pockets, handbags, etc.)
• Show product condition (clear bottle allows the consumer to see if the product is cloudy or contaminated)
• Be aesthetically pleasing
Rohto says, "The non-squirting, single-drop dispenser is the only packaging of its kind on the market. Other eyedrops on the market have opaque packaging."
Package design, created internally, is called the C cube, covering three Cs, which stand for Clear, Care and Comfort. Clear is for the clear/transparent bottle and making your eyes feel clear. Care provides protection and taking care of the eyes. The eyedrops protect your eyes and are kind to them. The package conveys the image of a soft-feeling product that will be safe to your eyes. Rohto avoided unusual shapes and selected as an inspiration a round egg shape, which is a very friendly shape, while making the edges sharply curved to give the image of a clear bottle. Comfort, meanwhile, stands for easy-to-use and making your eyes feel more comfortable.
Rohto Cool Max delivers maximum strength redness relief to whiten, protect, and relieve red, irritated eyes without the need for a prescription.
"In our always-on, technology-driven society, being kind to your eyes can be a challenge. People get less than the recommended amount of sleep and spend an average of more than 12 hours a day in front of computers, TVs and mobile devices, contributing to more incidences of red, irritated eyes," says Erick Estrada, Director of Marketing for Rohto. "With its unique cooling relief properties, Rohto Cooling Eye Drops are effective solutions, and people who have discovered them are extremely loyal. And now with summer in full swing, we're excited to announce the expansion of the Rohto line with Rohto Cool Max."
The Rohto Cooling Eye Drop line has an assortment of cooling solutions for a variety of symptoms to refresh, moisturize and provide fast-acting relief for irritated eyes. The line includes the following:
• Rohto Cool Max (new): Maximum strength redness relief specially formulated to whiten and protect red, irritated eyes.
• Rohto Cool: Clears and brightens red, irritated eyes.
• Rohto Ice: Multi-symptom relief in one bottle: relieves redness, refreshes, hydrates dry eyes, and soothes itch and burn.
• Rohto Relief: Soothes seasonal itch and burn from pollen, dust, and ragweed.
• Rohto Hydra: Restores moisture and relieves irritation by mimicking natural tears.
• Rohto Arctic: Advanced redness relief; refreshes and moisturizes while relieving eye strain.
Rohto Pharmaceutical has operations in 12 major markets, with marketing and distribution agreements in more than 150 countries globally. The Mentholatum Company is a global health and wellness company, providing non-prescription pharmaceutical, healthcare, and cosmetic products to consumers worldwide.