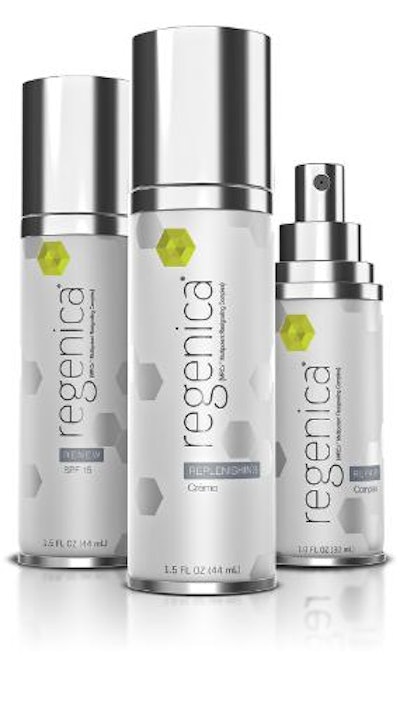 Suneva Medical, Inc., a privately-held aesthetics company that focuses on developing, manufacturing and commercializing novel, differentiated products for the general dermatology and aesthetic markets, has rebranded its Regenica® product line, an advanced skin care system formulated with the power of regenerative science and Multipotent Resignaling Complex MRCx™ next-generation growth factor technology.
The newly refreshed line is comprised of three products, Regenica Renew SPF 15, designed to protect skin from harmful UV rays while signaling skin's natural repair, Regenica Replenishing Crème, to hydrate skin and reverse the signs of aging, and Regenica Repair Complex, which helps accelerate skin renewal.
Regenica is distributed by Suneva Medical and is exclusively dispensed through physician offices. It is available for purchase in dermatology, plastic surgery, and other physician practices.
"Rooted in science and backed by years of advanced research, the new Regenica look more accurately communicates its unique MRCx next-generation growth factor formula," says Ava Shamban, MD, Board-Certified Dermatologist and key investigator in the clinical research for Regenica. "The line was carefully rebranded to help physicians attract patients to the power of growth factors, a key part of a balanced skin care regimen."
Featuring a sleek green and silver color palette, the refreshed Regenica packaging closely aligns the brand's visual identity with its scientific foundation. Regenica's MRCx technology, made by a proprietary, patented process, is a rejuvenating blend of physiologically balanced growth factors that are naturally secreted by human fibroblasts.