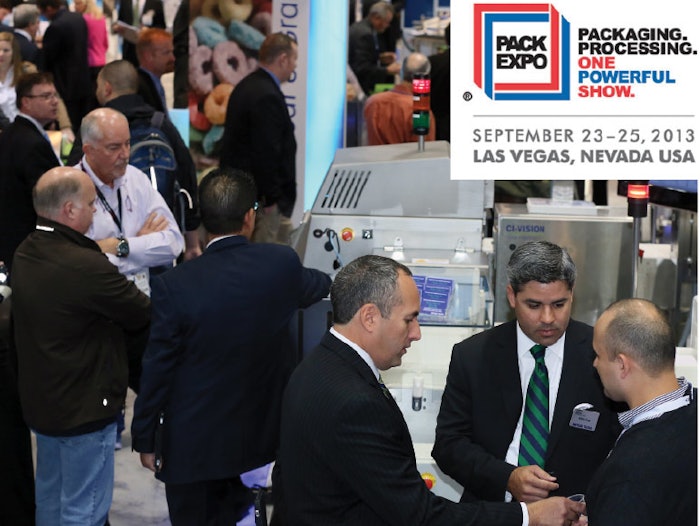 The Pharmaceutical Pavilion and The Rx Lounge aim to help pharmaceutical brand owners locate industry suppliers during Pack Expo Las Vegas 2013 (www.packexpo.com).
Billed as "the premier packaging and processing trade event," PELV is open from 9 a.m. to 4 p.m. Sept. 23-25 at the Las Vegas Convention Center. More than 26,000 attendees are expected at the show, which will include at least 1,600 exhibitors demonstrating equipment, materials, components, and services within 700,000 net sq ft of space. Show owner/organizer, PMMI (www.pmmi.org) says, "Pack Expo has always had a strong presence in pharmaceutical and medical device manufacturing. Historically, upward of 18 percent of end users who attend Pack Expo have identified themselves as pharmaceutical and medical device manufacturers, while one-third of all the exhibitors at Pack Expo are suppliers to the pharmaceutical industry."Among the pharmaceutical/medical device technologies solutions planned for PELV are cutting-edge automation and easy-to-use controls, new developments in serialization and tracking, advances in product protection and anti-counterfeiting, components for specialized packaging lines, robotics, hygienic design, and cleaning and allergen control. The Pharmaceutial Pavilion will be located in the Central Hall at the center. The pavilion was recently endorsed by the Intl. Society of Pharmaceutical Engineering (ISPE, www.ispe.org). In May, PMMI and ISPE announced the debut of Pharma Expo, set to co-locate with 2014's Pack Expo Intl. event in Chicago, Nov. 2-5, in the West Building at McCormick Place. The event plans to connect pharmaceutical, medical device, and nutraceutical manufacturers with packaging, processing, and other supply chain technologies. Pack Expo announced in June that more than 20 trade groups representing show attendees and their industries will take part at the Las Vegas event.
"Pavilions help attendees focus their time at Pack Expo, giving them a starting point for finding the technologies they came for," says PMMI President & CEO Charles D. Yuska. "The lounges add a networking aspect, and having industry-leading associations serving at the 'ask the expert' desks adds another layer of depth."
Educational angle
All PELV programming will move to the show floor, and all educational sessions will be included in the show registration fee. PMMI is also expanding the number of learning centers on the floor and including industry leaders in the effort. Learning hot spots include:
• Innovation Stage: Nonstop action in 27 half-hour segments delivered by experts, including the Alliance for Innovation and Operational Excellence, and covering the topics and technologies today's industry needs.
• The Center for Trends & Technology: Improving Production through Innovation (CTT) (Booth 1358), sponsored by Rockwell Automation and its Partner Network. In addition to educational sessions from suppliers, including Rockwell, Cisco, Microsoft, and Motorola, see technology on display and have the chance to learn how it works with other equipment.
• Reusables Learning Center: The Reusable Packaging Assn. will demonstrate long-term, cost-saving benefits from reusable packaging.

Other PELV highlights include the following:
• The Brand Zone: To help brands break out of the packaging box, with innovative containers and materials to create a competitive edge at the point of sale and build consumer loyalty.
• The Processing Zone: Will spotlight the latest processing technology for manufacturers in various industries and other vertical sectors.
• Seminars: From exhibitors on the Innovation Stage, along with a series of presentations from Mintel, a global market research and analysis firm. The Association Pavilion provides educational guidance for trends, technologies, regulatory changes, sustainability measures, and ways to streamline efficiency.
• The new SMB FastTrack program: Provides small- and medium-sized businesses with special services, easy access to innovative packaging and processing solutions, networking opportunities, and other vital resources to advance their businesses.