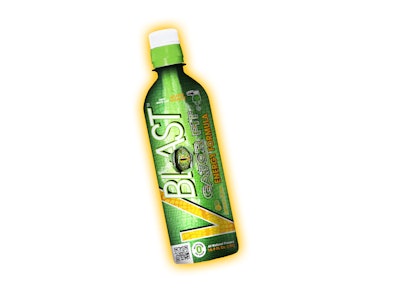 New York Spring Water, Inc., New York, NY, says it's "keepin it fresh" with a new line extension to its VBlast brand of vitamin-infused natural spring water. VBlast Gator Pit Energy Formula, launched in fall 2012, uses the same patented cap technology to deliver liquid vitamins to the beverage as its predecessor, VBlast, but targets disruption of the energy drink category.
"VBlast Gator Pit brings energy drinks to a new, healthier level," says NYSW vice president of operations Luke Zakka. "It's pure power—B-complex vitamins, energy, and natural flavors—and pure spring water, without sugar or taurine. VBlast Gator Pit has the muscle to power an intense workout or fuel an exciting day in a healthy, refreshing way."
According to Zakka, in 2007, NYSW was the first to introduce a spring water product enhanced with fresh vitamins contained within a cap. VBlast's early iterations involved cap technology from an outside supplier. This year, NYSW launched a new cap designed in-house, along with proprietary technology for filling the cap at its production facility in the Catskill Mountains.
Zakka says the proprietary design is a "pretty straightforward concept," adding, "We have something that people can immediately understand how to use, without it being overly complicated, which is a problem that we have seen with so many of these types of caps before."
The two-piece plastic cap is made up of a reservoir on the top that holds up to 6.5 mL of liquid concentrate, and a bottom piece that screws onto the bottle's 28-mm neck finish. When the consumer twists the cap, the liquid vitamin blend is dispensed into 16. 9 oz of water. Says Zakka, liquid ingredients are proven to have a higher bioavailability versus powdered vitamins, and they eliminate the clumping and grit associated with dry ingredients.
Speaking to the energy beverage's eye-opening potential, the clear PET bottle for VBlast Gator Pit is decorated with dynamic graphics, including a green-and-yellow gator eye glaring from the center of the design. "We are trying to achieve something that is captivating through vivid imagery, explains Zakka, who says the graphics were designed in-house, along with help from a proprietary outside designer. "With the Gator Pit graphics, it's a predatory animal that is really going to captivate your imagination, but it's also going to deliver that performance that you are looking for."
The square bottle uses two pressure-sensitive film labels. The front label is clear and contains the VBlast logo positioned vertically along the package—the sinister gator eye peeks through the "A" of the logo—along with some product information. The back label is printed on the inside with a reflective cold foil in an alligator-skin pattern that shows through the front of the package. The backside of the label is printed with nutrition information.
VBlast Gator Pit was introduced in New York-area retail stores in October in a Lemon Lime flavor, which will soon be joined by Mango Guanabana. VBlast products are priced at what Zakka calls a "highly competitive" suggested retail price of $1.49 to $1.79. "We're offering something that is not a far reach for people," he says, " and it's an offering that's not found anywhere else as far as packaging innovation goes."