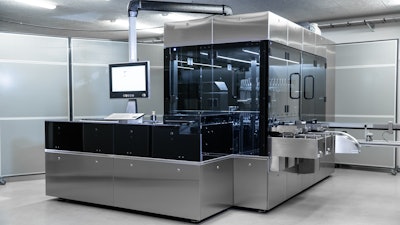 On Monday, November 9 at 11:15 EST (12:15pm CST), Stevanato Group will provide a presentation discussing flexible and scalable assembly platforms for drug delivery device programs. The company will showcase its ability to streamline device assembly operations –both for sub-assembly and final assembly – via a full range of solutions tailored to meet the quality and productivity goals of pharma companies and contract manufacturers. The presentation will include a virtual tour of Stevanato Group's workshop, as well as a demonstration.
In addition, on Tuesday, November 10 at 3:30pm EST (2:30pm CST), Stevanato Group will offer a presentation on achieving high DR and low FRR with automatic vision inspection machines. When dealing with pharma inspection, there is no "one-fits-all" solution, with possibilities ranging from manual to semi-automatic and fully automatic equipment for reliable inspection of cosmetic defects and contaminants in a wide range of drugs, including vaccines.
The discussion will explore best practices to achieve exceedingly low false rejects while maintaining a high detection rate. It also includes a demonstration of Stevanato Group's CVT Core inspection machine (pictured), a state-of-the-art automatic vision inspection solution capable of handling various containers at speeds up to 600ppm.
Companies in this article