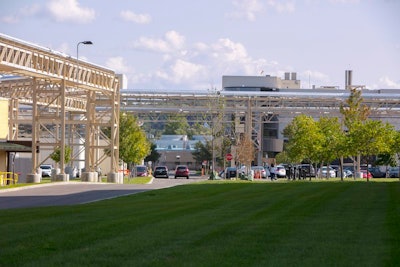 Photo courtesy of Bristol Myers Squibb
Bristol Myers Squibb is selling its East Syracuse, N.Y., pharmaceutical plant to the Lotte Group for $160 million. In return, Lotte will acquire the site's operations and assets, including the property, plant, and equipment. Contract manufacturing to produce medicine worth $220 million for Bristol over the next three years also is a part of the sales agreement. Lotte is planning to invest $77 million to expand the facility for contract development and manufacturing operations for the biopharma industry.

Bristol workers at the facility will become employees of Lotte Corp. when the acquisition is completed. Many of the jobs at the plant are held by biochemists, molecular biologists, and engineers.
"The East Syracuse site has been an important part of our company's history and our manufacturing network for many decades, and we are confident that Lotte will fully leverage the facility, its capabilities and its experienced workforce as it continues to play a vital role for patients around the world," says Karin Shanahan, executive vice president, global product development and supply for Bristol.
"We have taken a thoughtful approach to this decision and are confident this will best support the continued evolution of our manufacturing network and our mission to deliver innovative medicines that help patients prevail over serious diseases."
"We are pleased to add this state-of-the-art facility to our global pharma operations, which will enable us to rapidly scale and expand our biologics CDMO business in North America," says Lotte Executive Vice President Hunki Lee. "We look forward to welcoming the talented team in East Syracuse to Lotte, and we intend to make significant investments to further enhance the facility and its capabilities to support our strategic growth objectives moving forward."
Companies in this article