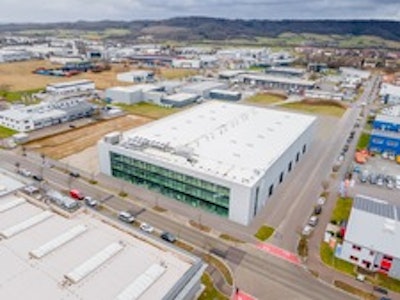 As part of its 100th anniversary celebration on May 05, the Optima Group inaugurated the CSPE Center II, which expands the Optima Pharma Division's production area for assembling, commissioning, and qualifying pharmaceutical filling lines by over 4,000 square meters. Additional office space has also been created.
The event was attended by numerous guests from the world of business and politics. Baden-Wuerttemberg's Minister-President Winfried Kretschmann made a special trip to the inauguration and extended his congratulations on Optima's 100th anniversary.
The first lines were installed just seven months after construction began, allowing Optima Pharma to respond to customer requests and further expand the successful CSPE process for fast and safe production startup of integrated filling lines with isolators and freeze dryers.
"CSPE 2.0 enables an even higher level of integration. Work that typically took place on the customer's site will be carried out to an even greater extent in one of our CSPE centers," states Gerhard Breu, chairman of the Optima Pharma Division. The Comprehensive Scientific Process Engineering (CSPE) speeds up processes, from designing the system to launching production. An essential aspect of CSPE is the comprehensive process simulations, along with integrated factory acceptance tests for complete systems.
In addition to filling and closing systems, and isolators, freeze-drying systems will now also be part of Optima's sustainability strategy. The energy-saving building was built in accordance with energy efficiency level 55 and, like the majority of company buildings in Schwaebisch Hall, is connected to the Schwaebisch Hall municipal district heating network. This provides Optima with regeneratively generated remote heating. Photovoltaic systems are installed on the roof and supply electricity to the public electric grid. The parking areas will be equipped with e-charging points.
Optima Pharma inaugurated the first CSPE Center in June 2019 at its headquarters in Schwaebisch Hall. Ever since, CSPE Center I has been operating at full capacity. At Optima Pharma's site in Gladenbach-Mornshausen near Marburg (Hesse), the current area for assembling, commissioning, and qualifying multi-story freeze drying systems has grown by over 50% in the past year.
An expansion building with office and assembly space is planned at  Optima's subsidiary Metall+Plastic in Radolfzell on Lake Constance. Metall+Plastic's isolators and cleanroom technology are essential for aseptically processing pharmaceutical products. This means Optima Pharma is capable of supplying integrated total solutions from a single source.
Provided that this strong growth continues, another CSPE Center may be added to the south of the CSPE Center II in the future.
Companies in this article