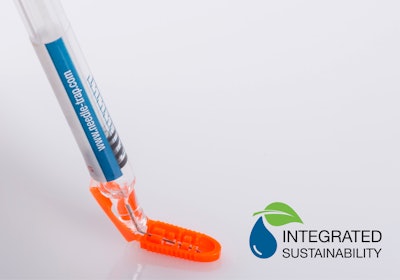 This content was written and submitted by the supplier. It has only been modified to comply with this publication's space and style.
Schreiner MediPharm, a Germany-based global provider of innovative functional label solutions for the healthcare industry, will focus on digitalization and sustainability-minded solutions at Pharmapack Paris, May 18-19. Among other products on display at its Booth C46 (Hall 7.2), Schreiner MediPharm will premiere an enhanced version of its Smart Blister Wallet, which allows pharmaceutical manufacturers to automatically track clinical trial compliance. The solution is now available with up to 64 cavities—double the previous maximum.
From a sustainability standpoint, Schreiner MediPharm will present proven products, such as its Needle-Trap needle protection system, whose special materials and characteristics can contribute to greater sustainability in the healthcare industry.
Digital Medication Adherence Monitoring with the 64-Cavity Smart Blister Wallet
Compliance with prescribed medications is crucial for the success of a therapy—especially in the case of clinical trials. Digital tools such as Medication Adherence Monitoring allow pharmaceutical manufacturers to track compliance of their trial participants automatically. With its original 32-cavity Smart Blister Wallet, Schreiner MediPharm provided groundbreaking digital support. Now, the solution series has been enhanced to include a 64-cavity version whose doses, like its predecessor, can be individually tracked.
The Smart Blister Wallet can be implemented for all blister designs as well as for two- or multiple-fold blisters. This prolongs the period of time during which the wallet can be used, and enables extended integration of several dosage strengths. Schreiner MediPharm supplies the cardboard box, including the integrated conductive tracks and printed circuit board, to the pharmaceutical manufacturer or contract manufacturing organization (CMO), who can process the smart packaging as it would a typical blister package.
For patients and healthcare professionals, the extendable version is as convenient to use as its 32-cavity counterpart, affording easy push-through removal of tablets and simple NFC-based data reading at a single point on the wallet, regardless the number of blister cards it contains.
The benefits for clinical research are obvious. For instance, the digital Smart Blister Wallet delivers enhanced and more reliable data quality, reduces trial failure rates due to non-adherence, helps reduce trial periods and costs, and accelerates approval and time to market for new drugs. The smart wallets also enable more efficient processes by eliminating manual tasks such as by-hand documentation and pill counting.
Labels with Integrated Sustainability Sustainability is playing an increasingly important role in the healthcare industry. Especially for existing products, the materials and raw materials used must be reviewed and optimized for environmental compatibility.
Schreiner MediPharm's Needle-Trap needle protection label has been on the market since 2009 and, demonstrably, is particularly sustainable compared to conventional needle protection systems: For instance, re-granulated materials account for up to 50% of the plastic trap. Due to its compact design, Needle-Trap also minimizes necessary plastic materials for both the solution and its secondary packaging. This reduces space requirements during shipping, storage, and disposal, reducing ecological footprint.
Companies in this article