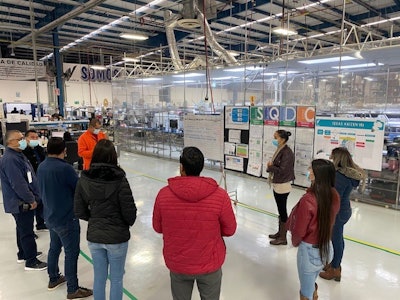 MedAccred has announced Volex has achieved MedAccred Accreditation for Cable and Wire Harness Assembly—making it the first company in Mexico to hold the prestigious accreditation for this critical manufacturing process.
The Volex Tijuana, Mexico manufacturing facility achieved accreditation after meeting the exacting audit requirements, as set by MedAccred subscribing members—leading medical device companies, including Bausch Health, BD, Boston Scientific, Baxter, Edwards Lifesciences, Johnson & Johnson, Medtronic, Philips, Stryker, and Roche Diagnostics.
MedAccred is unique as the sole industry-managed supply chain oversight program for key critical manufacturing processes in the medical device industry.
Connie Conboy, director, MedAccred, says, "We applaud Volex Tijuana, Mexico manufacturing facility for achieving MedAccred Cable and Wire Harness Assembly Accreditation and becoming the first company in Mexico to do so for this process. Volex has continued to show the world its dedication and support for the medical device industry and, most importantly, patient safety. It has met the strict audit criteria, created by 10 of the leading medical device companies, and demonstrated commitment to continuous improvement by focusing on achieving its customers' highest expectations."
Mark Kray, Volex COO for North America, says, "Our recent MedAccred Accreditation of the Tijuana, Mexico facility further supports our medical sector strategy by increasing our value-added offering to medical customers seeking enhanced global support, and new MedAccred-accredited manufacturing processes. Volex provides our customers with the assurance that their products are built with strict adherence to quality, reliability, and performance to the highest of safety-critical standards."
Companies in this article