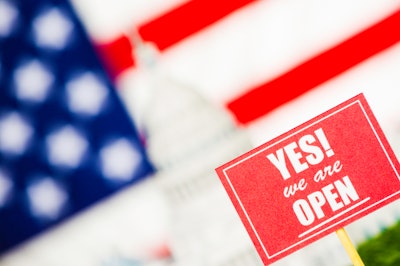 The just-ended government shutdown took $24 billion out of the U.S. economy according to an estimate from financial services company Standard & Poor's, says an Oct. 17 report on Time's website.
The article noted that with government funding guaranteed through Jan. 15, 2014, "the situation could grow worse." Time quoted S&P as saying, "The short turnaround for politicians to negotiate some sort of lasting deal will likely weigh on consumer confidence, especially among government workers [who] were furloughed."
What was/is the 16-day shutdown's impact on the healthcare community? What impact might another potential shutdown in early 2014 mean to the healthcare community—in particular to manufacturers of pharmaceuticals, biologics, medical devices, and their packaging, logistics, and supply chains? Give us your take…(Just to be clear, we're not talking about the Patient Protection and Affordable Care Act.)
At the recent 11th Annual Cold Chain GDP & Temperature Management Logistics Global Forum held in Chicago Sept. 30 – Oct. 4 just as the shutdown began, more than one U.S. Food and Drug Administration representative scheduled to make a presentation did not.
The government shutdown likely delayed the potential U.S. Senate approval of H.R. 3204, the bicameral bill passed by the U.S. House of Representatives in late Sept. that could have helped clarify the U.S. position on pharmaceutical serialization and e-pedigree. (See "Serialization and unique device identification developments.")
Asked to provide perspective on the situation post-government shutdown, Healthcare Packaging Contributing Editor and RxTrace Author Dirk Rodgers said, "It is hard to gauge how quickly H.R. 3204 will be brought up for debate or vote in the Senate—that will probably be determined by how much opposition to the more controversial compounding sections Senators have received over the last three weeks. Of course, they could bring it up and dispense with it very quickly at any time, but there is also a slight chance that it could be referred back to the HELP committee where it could potentially be amended. That would be a setback to the efforts to get quick passage because it would then have to return to the House for another vote. Isn't it fun watching how our government works through this bill?"
Stephen J. Ubl, president and CEO of the AdvaMed, a trade association whose member companies produce medical devices, diagnostic products and health information systems, issued the following statement on Oct. 16:
"We are heartened by the strong and growing bipartisan support for repeal of the medical device tax in both the House and Senate, and we appreciate the commitment from many members of Congress to keep this issue front and center during the budget debate moving forward. Repealing this tax is critical to job creation and increased investments in R&D that will drive the next wave of medical progress. We are strongly committed to full repeal of this tax, and we will continue work to that end."
The shutdown reportedly had an impact on several clinical trials as well. For example, an Oct. 10 Huffington Post article noted, "Normally, about 200 new patients every week enroll in studies at the NIH's [National Institutes of Health's] research-only hospital, often referred to as the 'house of hope' because so many of those people have failed standard treatments. The shutdown halted most of those new enrollments, sparking heated political debate about the fate of children with cancer as Congress and the White House grappled with how to get the government back to work."
Now the government is working again, and one bit of encouraging news came from an Oct. 17 report on CNNHealth's "The Chart" website: "Now that the U.S. government shutdown is over, federal workers are returning to work, including the furloughed doctors and epidemiologists who work for the Centers for Disease Control and Prevention. One of the many things the CDC does is keep track of the flu, something that was stopped on October 1, leaving the overall flu picture in the United States a little murky. … The CDC also tests to see to see if current flu strains circulating among us are becoming resistant to existing antiviral medications like Tamiflu or amantidine. So there will be some more catching up to do by federal health researchers."