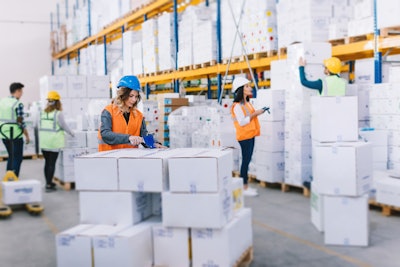 Data exchange between trading partners is a key component of meeting Drug Supply Chain Security (DSCSA) requirements for unit-level traceability of prescription drugs. With only two years left to meet 2023 milestones, industry groups and experts are urging manufacturers to begin onboarding with distributors for data exchange as soon as possible.
---
---
While much of the focus has been on the technological challenges around receiving EPCIS files, Maryann Nelson, regulatory manager at Cardinal Health, Inc., discussed a new need developing in the space at HDA's Traceability Online Seminar: labor.
First, the technological challenges are quite serious with limited time left. In November 2023, wholesale distributors like Cardinal Health must receive that EPCIS serialized transaction information (TI) and transaction statement (TS) from manufacturers prior to accepting ownership of the product, replacing the TI, TS, and transaction history (TH) shared today via advanced shipping notice (ASN).
Nelson said Cardinal Health expects to onboard approximately 500 suppliers with point-to-point direct connections. "Cardinal Health has been ready to receive EPCIS serialized data for well over a year now. And we've really tried to communicate to manufacturers not to wait. Don't use the enforcement discretion granted by FDA as a reason to pause efforts, if you will," she explained. "We do remain concerned, however, about EPCIS adoption. Currently only 42 manufacturers are sending us serialized data in production, so that's less than 10%."
Inbound process
Cardinal Health has developed systems and processes to ensure that the EPCIS messages they receive contain all the DSCSA transaction data elements that are required. That data from manufacturers is stored in a serialization repository.
Upon receipt of product on the dock, they will check-in the product by matching the NDC, the lot, and the quantity of the physical product with the data received. This is followed by scanning a representative sample of barcodes for every purchase order/NDC/lot combination to ensure that those serial numbers are in the serialized data they've received.
"If they match, we intend to infer the remainder of the serial numbers and we'll note which serial numbers have been scanned vs. which have been inferred. That information is going to be helpful for future reconciliation efforts. If data is not available or discrepancies are found, we'll quarantine that product and be contacting the manufacturer to resolve," Nelson said.
Outbound process
For outbound product, they plan to scan every serial number at picking. Scanning will be performed at case level (if shipping a full case to a customer) or at the individual package level (if sending a less than case quantity). "We do this for two reasons. First, we want to make sure that the serialized data has been received for the item prior to shipment. And this is important because we're going to be using inference on receipt," she said. "Second, it's to capture the elements of that product identifier—the NDC, lot, expiration, and serial number—so we can associate it with the order and with the customer who's going to be receiving it. Just like with receiving, if a scanned serial number cannot be found in our repository, we'll be quarantining that product and reaching out to the manufacturer to resolve the exception.
Labor needs
Nelson noted that Cardinal is not currently scanning 2D bar codes at outbound, though they have built the system functionality to do so. "We have to invest in new 2D scanners for warehouse associates to use, and then we're also budgeting for the additional resources needed to scan the barcodes on every package on outbound," she noted. "That outbound scanning is expected to increase labor by a minimum of 12 to 15% based on recent time studies. As an example, a distribution center with a 50-person night crew will need to hire six additional people just to support the outbound scanning."
Multiplied by the 21 pharmaceutical distribution centers in the Cardinal Health network, that's a significant increase in headcount. This figure only accounts for outbound scanning, she explained, and it doesn't include the resources needed for the future inbound process changes or reconciliation efforts.
---
---
Companies in this article