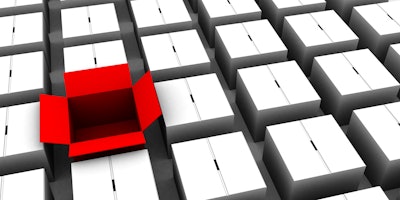 Efficient resolution of EPCIS data exceptions will be key to ensuring pharmaceutical products move through supply chains and reach patients in a timely manner.
When physical products arrive at a distributor and the accompanying data doesn't match, how will the industry resolve those issues? At HDA's 2021 Traceability Online Seminar, experts held a roundtable discussion for trading partners—manufacturers, suppliers, and distributors—to discuss exception management concerns. HDA's workgroup around exception handling has identified approximately 19 different scenarios deemed exceptions.
Libby Dewey, sr. consultant, operations technology at Cardinal Health, Inc., and Mike Mazur, director, trade operations at Pfizer Inc., co-facilitated the discussion. Pfizer has "been live" with Cardinal on EPCIS data exchange for the past eight months (along with other trading partners) which has yielded preliminary feedback and learnings on how to deal with exceptions in the data exchange files they're sending.
Not familiar with the Drug Supply Chain Security Act (DSCSA)? Start here: Serialization 101.
Product without data
Of the many different scenarios deemed exceptions, one major example is overages. In this "product/no data" case, the downstream trading partner may have 16 cases show up, but only receives data for 15 of those. How does the manufacturer get notified of the issue so they can begin their investigation? How does the manufacturer correct that transaction information so that case can be removed from quarantine in a timely fashion? (It should be noted that "timely" is a relative term at this point.)
The workgroup is looking at developing standards for how a distributor would notify a manufacturer and what information and formatting that notification would entail, such as the product identifier and the delivery/PO the extra case was on. "That's really where the industry needs to be in the next two years, to put processes in place to be able to handle if we do have an instance of product/no data," said Mazur. "There is ongoing work within HDA in these workgroup sessions to help standardize the messaging between the distributor and the manufacturer."
---
---
It may not be so simple to identify which case is the extra. From the distributor perspective, Dewey noted, "We're working on the way that we're going to pick out the excess product, how we're going to identify it, and how we're going to communicate that. We see this currently as an extension of how we're handling returns verification exceptions—which we're doing right now—as well as an extension of how we're handling ASN [advance ship notice] overages and things of that nature. We're planning to sample on inbound and utilize a type of interim status to identify a product that has been received inbound, but not picked yet for outbound and verified."
Of course, manufacturers will then need to investigate the issue on their end to determine the cause. "We need to understand why we don't have a ship event against that product if it was shipped. Was something sent that shouldn't have been sent? Or what's missing to close that loop? Is there an overage and an under-data scenario that we need to research?" said one attendee who is part of the workgroup said. "And with data integrity issues, it's not as easy to generate something that's missing. We've taken that back to our internal team to walk through all the steps that are needed, but it's just that added complexity that's not as easy to fix, while we also try to build in proactive measures as much as we can to not run into that."
Other exceptions
Manufacturers have to start looking at exception scenarios and how they'll resolve each. Issues may be site-specific or broader, in nature. A few other examples came up in discussion including:
Flags, such as whether a batch is serialized and aggregated to a case or pallet, drive other processes in the system. If an aggregation flag is not set, the system is not going to look for the parent-child relationship and infer the contents. The manufacturer then ships out good product, but only with a case-level serial number and not the contents of that case, because the flag was not checked properly.
Data issues include GCPs incorrectly formatted causing the whole file to fail, the syntax GLN is incorrect, or GTINs are missing.
If a case is the unit of sale, but the contents of the case are also serialized, the differing case GTIN and content GTIN can cause the file to fail.
An exception discovered later can also add to the complexity, as not all issues will be discovered in receiving. A product/no data situation may not be found until the product is actually picked (deeper into the process), and which point it would go to quarantine. "A worst-case scenario is ultimately product that's found in a fulfillment area of a distributor where it's been disassociated from that shipper case… you don't know what delivery that came in on or its shipper-case," said Mazur.
Throughout the seminar, attendees made mention of seeking clarity around processes for decommissioned product.
Data/no product
The opposite problem of product/no data can occur where a distributor receives more data and less product, if perhaps product is shipped to an incorrect customer while data is sent to the correct customer. In this case, distributors may not have a process developed to do anything with extra data. It's likely the manufacturer would discover such an issue first as distributors routinely receive data followed by the physical shipment a day or two later. This makes it difficult for the distributor to determine what is extra data vs. what product simply hasn't been received yet. "We don't know that the product is not still on its way to us. We're certainly open to coming up with a process to give feedback should the industry decide that there's some mechanism that makes sense for that," said Dewey.
Staffing
An attendee asked if a certain department handles the back-and-forth at the manufacturer site. In Pfizer's case, they have a dedicated group handling overages and missing files with regard to lot traceability, but for the EPCIS data exchange, which is not yet a regulatory transaction, they are still onboarding and in test mode. "We're still learning, we're still identifying what tools we'll need to build in order to fix discrepancies. Some discrepancies will be fixed at the site, some of them can be fixed in the market. Some of them have to be fixed by a quality individual," said Mazur. "Ultimately we'll build the processes to fix them. Right now, we have the luxury of learning."
---
---
Organization and product location
Items with data issues will be moved into a quarantine section, to be held until the exception is resolved. "A big challenge that we've found is just making sure that we have a good organization system to be able to facilitate finding that product—especially if we have high volume—when we get the information back from the manufacturer," Dewey said.
In a related roundtable, speakers discussed what systems distributors may use to locate product once an exception is resolved with the manufacturer. Ian Cannell warned attendees of potential space constraints, particularly for worst-case scenarios where an entire pallet or more must be quarantined.
Matt Sample is VP, manufacturer operations at AmerisourceBergen Corporation. As he explained, "We're leveraging software called Investigator from LSPedia for exceptions today. We were using them for saleable returns, and we'll most likely be using that going forward for exceptions so that we can log them…. All exceptions would be managed centrally. I have 26 DCs [distribution centers], so when we clear an exception, we will communicate to the DC that it's okay to release said quarantined inventory."
Sample reiterated Dewey's point that volume matters. One box can be moved back to distribution quickly, but for a high volume of product, it may be challenging to find or create bin locations for every exception. Without data to determine how many exceptions there will be, methods of organizing remain "to be determined."
Could RFID or IoT stickers play a role in locating product in quarantine? It is certainly a possibility. However, distributors commented that solutions would need to be implemented at the manufacturer level, and it would require many manufacturers adopting the technology on case packs in order for it to make sense. (For clarity, this would not replace 2D barcodes.) Distributors would also need to factor in time spent scanning if any IoT (internet of things) solutions are added.
Co-facilitator Omid Ghobadi, sr. director, finance & technology at HyGen Pharmaceuticals, Inc. noted that Walmart may have had a similar experience with their serialization in the past. He added, "That could work to scan a high volume of product as soon as the pallet hits the dock, but like Matt mentioned, it should come from the manufacturers. And, you cannot have that only for two manufacturers—it only works if the majority sign up for this technology."
Closing thoughts
The conversation at the seminar touched on the more philosophical and ethical issues around serialization requirements and drugs critical to patient care. In 2023, companies will be faced with handling exceptions and fixing data issues while some patients wait for life-saving treatments. And further to that point, can a company be sure it's merely a data issue?
This should be a strategic conversation between compliance and legal groups at an organization. If product can't be received per the intent of the law, will trading partners have the SOPs and bandwidth in the schedule to quarantine it and follow exception management procedures?
As is the case with any DSCSA-related news, experts advise to start working as soon as possible to put processes in place for exceptions, to minimize issues that could hold up patient care.
Companies in this article