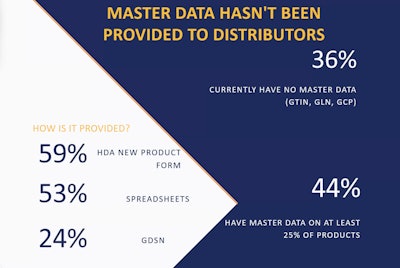 The pharmaceutical supply chain's progress on implementing product serialization requirements to comply with the Drug Supply Chain Security Act (DSCSA) has slowed as the November 2023 deadline for compliance comes into view. According to the HDA Research Foundation's latest Serialization Readiness Survey, trading partners appear to be deferring their DSCSA-related investments into 2022 or 2023, which could hinder overall supply chain compliance with the federal traceability law.
Now in its sixth year, this survey, released today as part of HDA's Traceability Online Seminar (November 1–3), assesses the current ability of manufacturers and distributors to meet the DSCSA product serialization requirements. Further, the survey probes into when distributors can expect to receive serialized product and perceptions of dispenser readiness. Data reflect survey responses from 40 manufacturers, including 13 of the 2019 top 20 pharmaceutical manufacturers by sales as listed by IQVIA, as well as 25 distributor companies.
The findings reveal:
Aggregation, a prerequisite for manufacturers to send serialized transaction data, has slowed. While 45% are currently aggregating, 56% planned to aggregate by the end of 2019 in the 2019 and 2020 surveys. Now, nearly 40% will do so by 2023. This number is up from a quarter last year, indicating a shift in timelines.
40% of manufacturers are currently sending or plan to send, by the end of 2021, at least some serialized data to their wholesale distributor customers upon shipment. 43% plan to do so by November 2023. Another 16% are still unsure of when they plan to exchange data with wholesale distributors via EPCIS for all products.
Over the past three years, the number of manufacturers planning to send serialized data with 100% of product has fallen to 12% from 35% (2020) and 21% (2019). Most manufacturers, 65%, anticipate sending 100% of data with shipped product by 2023, when it is legally required.
Distributors are still preparing for data exchange. Only 60% of distributors can accept serialized data today. However, approximately 48% are receiving serialized data for between 1 and 5% of transactions.

Two-thirds of manufacturers anticipate using the verification router service (VRS) to support verification requests of non-direct purchasers. With the FDA granting enforcement discretion on the saleable returns requirement until 2023, 56% of distributors have no concerns with meeting this deadline, while 44% still have concerns. The key concerns cited are "challenges with VRS," "accuracy" and "completeness of data exchange."

When asked to note the key challenges for achieving 2023 compliance, manufacturers and distributors cite "governance of the interoperable system for 2023," "technical challenges," "establishing standards," "collaboration with trading partners" and "differing interpretations" of the law among their top concerns.
Dispenser knowledge of DSCSA requirements remains inconsistent and is generally low, especially among independent pharmacies, according to distributor respondents.
The results of the Serialization Readiness Survey track with the Foundation's recent EPCIS Benchmarking Survey. The latter survey, released in September, found that few trading partners are prepared to share DSCSA-related data via GS1's Electronic Product Code Information Services, a necessary requirement for 2023 implementation.
---
---
"As the Foundation's data show, the healthcare supply chain is entering a critical work period over the next two years," said Perry Fri, executive vice president, Industry relations, membership & education, HDA; and COO, HDA Research Foundation. "The uneven state of readiness among supply chain partners has likely been exacerbated by operating under the pressures of the COVID-19 response; however, our findings also illustrate the range of interpretations and information gaps that must be overcome within the next two years. Educating trading partners, such as the dispenser community, and aligning on requirements will be crucial to getting implementation over the finish line."
The Serialization Readiness Survey, sponsored by LSPediA and Movilitas, is available as a complimentary download.
Companies in this article