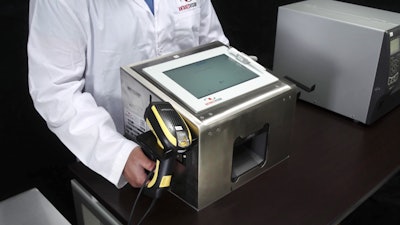 Antares Vision Group is showcasing its new standalone module for manual case aggregation at Booth #6502 in the Healthcare Packaging Expo. Also capable of supporting post-lot reworking operations in warehouses and distribution centers, the system is a fit for those looking to meet upcoming supply chain security requirements with small to mid-sized outputs that don't require full automation.
Chris Collins, sales manager for Antares Vision Group, notes, "The Mini Manual Station was developed in consideration of the limited amount of real estate most packaging operations are dealing with. Antares wanted to offer a flexible and cost-effective solution to the market with a compact design."
Antares says that following the situation-specific recipe—for example, the number of cartons per case—the Mini Manual Station aggregation unit issues the upper level, "parent" container label once the pre-set quantity of items has been scanned into the system.
As a manual system, the unit is designed ergonomically with easy, multi-point access and an always-on handheld scanner for fast, reliable code reading. The Mini Manual Station is currently operating in pharma, med device and nutraceutical facilities.
For more on Antares' offerings at the show, go here. The company is also exhibiting its Track My Way track & trace platform at its Healthcare Packaging Expo booth and main hall Booth #C-3938. AVionics, a software tool designed to monitor equipment performance and efficiency throughout the production process, is also on display, along with a number of other traceability, printing, and inspection systems.
Companies in this article