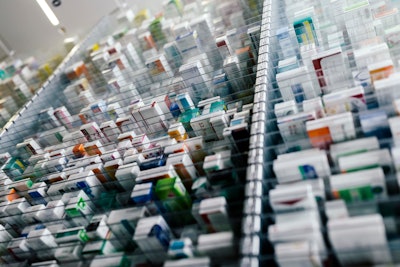 At this week's HDA Distribution Management Conference, Angela Fernandez, VP of Community Engagement at GS1 US, and Scott Mooney, VP of Distribution Operations at McKesson Corporation, talked about using GS1 standards to prepare for the FDA's 2023 DSCSA deadline.

Overview of DSCSA
DSCSA provides an industry mandate to build an interoperable electronic system to identify and trace prescription drugs distributed throughout the United States. This system requires trading partners to maintain and share a chain of ownership data as transactions occur, and in 2023 this will be a serialized transaction event, enabling the item to be traced at a specific package level.
Stakeholders include the manufacturers, contract manufacturers, group packagers who may change the format of the products, wholesale distributors, dispensers receiving the products, third party logistics providers (while not technically an owner under the DSCSA, they will need to engage with trading partners who are the owners of the product in a serialized manner), and state boards of pharmacy.
Timeline
November 2017:

Manufacturers were expected to begin affixing to their products a 2D data matrix barcode product identifier that is encoded with the serialized (standard) numerical indicator (SNI), lot number, expiration date, and TH (transaction history), TI (transaction information), and TS (transaction statement). This requirement was given a 12-month extension to November 2018.

November 2018: Repackagers were expected to begin affixing a 2D data matrix barcode to each package, and a linear or 2D Barcode to each homogeneous case, with the SNI, lot number, and expiration date.

November 2019: Wholesalers and distributors were expected to only be receiving and transacting product with 2D data matrix barcode

product identifier, except for grandfathered products that were packaged prior to the effective date. Also, electronic data formats were expected to be used for the exchange of TI, TH, and TS. The verification of saleable returns was part of this timeline but was deferred to November 2023.

November 2020: Dispensers were expected to receive only product with 2D data matrix barcodes and product identifiers, unless grandfathered.

November 2023: The focus to-date has been to get the product marked with the serialized product identifier, converted, and aged out so that product manufactured before the requirement will have been minimized in the supply chain. Starting in November of 2023, the requirement to exchange serialized transaction data between trading partners all the way through the supply chain will begin. There will also be some changes to the data that's exchanged: The current version of traceability is lot level, and the transaction data includes information detailing the current transaction, but it also includes historical data of prior transactions that have occurred for the product.
In 2023, the transaction history will no longer be a requirement to the DSCSA, but the interoperable system is presumed under the statute to allow a search of previous transaction information events. Therefore, a digital exchange referencing the serial numbers at that level and point in time will occur, and most of the grandfathered inventory will no longer be in the supply chain.
---
---
How Does GS1 Fit In?
GS1 global standards for data uniquely distinguish products, logistics units, locations, assets, documents, and relationships across the supply chain, and have been used in healthcare for decades. These standards enable visibility across the supply chain from end to end - whether for medical devices or pharmaceutical items, allowing the reduction of counterfeit products and enhancing inventory management processes.
Key benefits:
•Supporting FDA DSCSA regulatory compliance
•Improving patient safety through a secure Supply Chain
•Tracking and trace of pharmaceutical products for interoperability
•Enabling supply chain visibility
•Meeting the requirements for product recalls
•Minimizing the potential introduction of counterfeit drugs
•Enhancing inventory management
•Optimizing order, invoice, sales reporting, and chargeback/rebate processes
GS1 standards enable identification with global uniqueness. The data structure enables organizations to utilize the standards inside of current technologies and systems, and to share that information in a way that is interoperable irrespective of what systems trading partners are using.
---
---
Electronic Product Code Information Services
EPCIS is the GS1 standard that is used to create, capture, and store information at certain times throughout the supply chain. EPCIS is used to track "events" along a product's timeline; for example, when product is manufactured, packaged, shipped, or when something has happened to the product physically that may transform it. The standard allows every stakeholder that's involved in the supply chain to capture and store that associated data with those events that are occurring inside of the facility or operation, and then to share it with partners in the supply chain. EPCIS is not a singular database, but each party stores and shares its own data.
EPCIS events captured and shared at the beginning of the supply chain (manufacturer) include:
Commissioning (TI)

Packing (TI)

Shipping (TI)
(TI) is DSCSA statutory transaction information that will be shared with trading partners.
EPCIS events captured and shared intermediate parties in the supply chain (wholesalers and distributors) include:
Receiving

Unpacking

Commissioning (TI)

Packing (TI)

Shipping (TI)
(TI) is DSCSA statutory transaction information that will be shared with trading partners.
EPCIS events captured and shared at the end of the supply chain (dispensers) include:
Receiving

Unpacking

Dispensing

Destroying

Decommissioning
Future Need: Unique Global Location Number
All trading partners within the supply chain will need to have a GLN assigned to them, in order to be universally identified within the 2023 interoperable system.
For more information on GS1 Standards: https://www.gs1us.org/industries/healthcare/standards-in-use/pharmaceutical
---
PACK EXPO Las Vegas and Healthcare Packaging EXPO (Sept. 27-29, Las Vegas Convention Center) will reunite the packaging and processing community. With over 1400 exhibitors, no other event in 2021 will bring together a more comprehensive gathering of suppliers offering new products, technologies and solutions. Attendee registration is now open.
Companies in this article