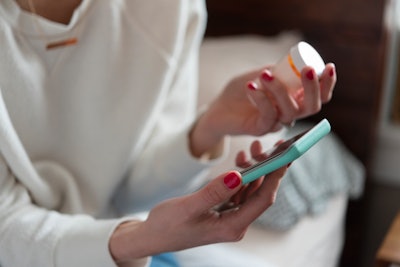 According to the 2019 PMMI Business Intelligence White Paper "Senior-Friendly Healthcare Packaging," there are a number of cutting-edge technology solutions that are emerging in the healthcare market, and one of the most common applications for smart technology in healthcare packaging is dosage tracking for medication.
Utilizing either RFID or NFC technology, dosage tracking-enabled healthcare packaging can recognize when the package is opened, and a dose removed. The remaining number of doses can then be displayed on a simple digital screen included on the package, or through the use of a connected smart device, such as a phone or tablet.
An engineering manager at a leading OTC manufacturer points out that smart technologies for mainstream packaging will need to be more user friendly to become widespread, especially for seniors using smart phones. And one director of operations at a technology innovator says, "There is a reusable smart cap in prototype development now that will also record the medication dosage, but it's not on the market yet."
Dosage counting and compliance can work in conjunction. Rather than simply reminding a patient of when to take medication, RFID and NFC capable smart packaging can be linked to a smart device or healthcare provider's network, allowing doctors to remotely monitor the compliance levels of their patients by building a historic data log of time and date taken, to analyze at a later time. Additionally, the package can send real-time alerts to both a healthcare provider and patient, informing them of missed doses – an important feature for seniors, who are often on more than one medication and may struggle with remembering what to take and when to take it.
Beyond dosage and compliance tracking, smart technology enabled healthcare packaging can also be utilized to verify the integrity of products as they move through the supply chain. To ensure products remain in a desired state throughout the supply chain, companies are utilizing RFID-equipped sensors imbedded in or placed onto packaging that continuously monitor environmental conditions. Should a package become too hot, too cold, or experience too much impact trauma, the sensor can alert the manufacturer, packager, or distributor that a problem has occurred. Some of these sensors can also detect whether a factory seal has been breached during distribution, alerting the supply chain stakeholders to a potentially contaminated product.
QR codes are also finding applications to aid in senior-friendly packaging. Today, 40% of seniors own a smartphone, and if that number continues to increase it may eventually open the door to augmented reality-based packaging solutions, like QR codes, that are more traditionally aimed at younger generations. One potential QR code smart technology solution for seniors is the digitization of instruction booklets. With tiny text and hard to peel tabs, extended instructional booklets on healthcare packaging are often of little use to senior customers. By migrating that information to a digital platform and placing a QR code on the package, seniors could access instructions online in a larger and more convenient format.
Download your FREE copy of this 24-page white paper here.
Make plans to visit PACK EXPO East in Philadelphia, March 3-5, to see on-trend healthcare packaging machinery and materials.