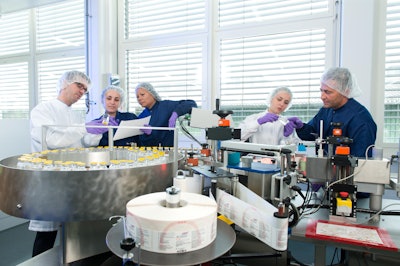 With EU Falsified Medicines Directive (FMD) deadlines approaching, pharmaceutical manufacturers and contract service organizations are under increasing pressure to introduce packing line equipment that can physically code products, and to invest in software and platforms that allow for effective and efficient data transfer.
The effective protection against counterfeiting through serialization requires companies to apply a 2-D matrix barcode to every saleable unit of a drug product and comply with the required levels of data exchange in every market they sell in. This requires multiple interconnected systems across manufacturers and supply chain partners to synchronize together, including network, enterprise, site-level, line/warehouse and device-level systems.
Independent contract packaging organization (CPO) allpack focuses solely on the pharmaceutical sector, offering clinical and commercial packaging services ranging from small volume to large lot sizes. It operates six primary packaging lines, several secondary packaging lines and five devices/units, which are capable of serializing and aggregating. One integrated line has the capability to serialize at blister-level up to aggregating at pallet level.
allpack began its serialization program in 2014, working with several brands in major markets around the world, however it was the advent of the FMD regulations that initiated the company's search for an external partner that would help it manage and exchange its serialization data more effectively.
The company planned to implement a Level 5 system that would eliminate data transfer via email and/or dedicated interfaces, replacing individual point-to-point connections with a networked approach. While the individual interfaces would need to be replaced, allpack wanted to retain its dedicated approach to each customer as part of the tailored offering it provides and implement an efficient onboarding methodology for its customers.
Choosing their partner
allpack sought an external partner with extensive serialization experience that could provide a true network model and could navigate the various novel challenges that come with serialization.
During their selection process, allpack discounted vendors that either didn't specialize in pharmaceuticals or did not provide a true network for quick and seamless integration with their customers. The company discounted hardware vendors that offered Level 4 and Level 5 systems over concerns that their products wouldn't interface with other line systems in the future.
The company evaluated potential partners over a two-year period, selecting TraceLink for its network approach and ability to globally support allpack customers to comply with their market regulations. TraceLink offered the technical system required, but also aligned with allpack's strategic focus on specializing in the pharmaceutical sector and offering customer-centric services.
Achieving regulatory preparedness and beyond
Through its use of the TraceLink Life Sciences Cloud, allpack is now part of an established network to exchange data with its pharmaceutical customers and support their compliance not only with the coming FMD regulations, but with current and potential global serialization requirements as well.
allpack now offers a simpler partner connectivity approach for its customers, with a single connection point allowing them to export data via an established system interface.
By joining TraceLink's contract service providers network of more than 650 companies and 265,000 partners exchanging data, allpack has simplified the data challenge for itself and its customers.
allpack has also begun work with TraceLink on an added value program that will extend serialization from unit-level blister packs into full pallet-level aggregation. While aggregation is not currently mandated as part of the FMD requirements, it is increasingly sought after by businesses.
The global serialization challenge will be discussed further at FutureLink Munich, which takes place June 5-7, 2018. The event will see leaders from across the pharmaceutical and healthcare industries gather to discuss regulatory compliance and the shaping of the future of digital drug supply. The line-up includes Boris Brunow, Business Development Manager at allpack, who will be discussing "The Serialization Milestones of a Contract Packaging Organization". For more information visit FutureLink Munich.
Companies in this article