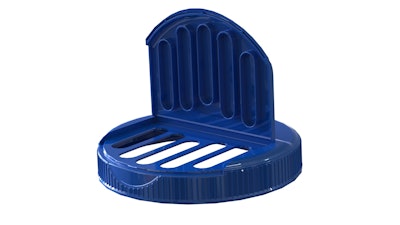 Weatherchem, a manufacturer and marketer of plastic dispensing closures and controlled access packaging, announced sustainability initiatives that represent a corporate-wide commitment from employees to the community and the environment.
Product design and production processes consider both the business and the environment. For example, the company is poised to create an impact as production begins on its lighter 110-mm Flapper® caps.

How much impact can one cap have? By following the cap from the initial ordering through the production process all the way to the cap's delivery to the customer, the savings add up quickly.
• When an order is placed, what used to be printed on paper to create this order is now accomplished entirely electronically via Weatherchem's ERP system. Through paperless purchasing and order processing, letter-size paper consumption decreased 10% through the first half of the year at Weatherchem.
• When this order makes its way to the production floor, it will be produced on a new press that consumes 30% less electricity.
• Because of the new lightweight 110-mm design, 20% less plastic will be used compared to the previous design. Using less plastic also requires smaller amounts of color to be added to the resin while reduced cycle times for this process contribute additional energy savings.
• Another investment includes machinery to stack the finished caps and automate the packaging process. Adding this equipment enables 80 more pieces to fit in each box of 110-mm Flapper caps, representing an increase of 40% over the previous packaging method.
• The amount of packing material needed to securely fill the box is reduced. More caps per box, pallet, and truckload mean that the freight to transport these caps to the customer is also reduced. On average, to transport Weatherchem's annual volume of 110-mm caps will now require 11 fewer truckloads.
Companies in this article