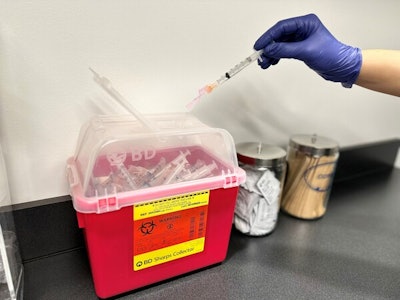 This content was written and submitted by the supplier. It has only been modified to comply with this publication's space and style.
Becton Dickinson and Casella Waste Systems have announced the most recent results of a recycling pilot to manage discarded syringes and needles that led to 40,000 lb of medical waste being recycled and diverted from disposal.
The circular economy pilot, which took place in the first half of 2023, was the first large-scale effort to assess the feasibility of recycling medical waste found in red sharps containers. These containers included a broad range of medical equipment and materials, primarily syringes and needles.
The medical waste was collected across a variety of healthcare facilities, and all of the plastics were diverted from disposal and recycled. The pilot also assessed the technical feasibility of mechanical and advanced recycling—both of which have shown favorable results in their ability to successfully recycle used medical devices for use in other products.
"Needles and syringes help enable a wide range of critical medical treatments and care, but they require plastic for production—which generates waste and is one of the most relevant environmental issues facing the healthcare industry today," says Chee Lum, vice president and general manager of injection systems for BD. "At BD, we are committed to reducing the environmental impact of our portfolio, and the results of this study show that by working together with industry partners, we can drive sustainable solutions that have a positive impact on the health of our planet and communities."
The next stage of the pilot program will expand regionally to additional hospitals and non-acute care facilities. The teams will also increase focus to cover other types of medical materials for recycling, as well as reclaiming the used devices and returning them to the manufacturing process.
"This pilot showcases the strength of collaborative partnerships when it comes to sustainable material management practices," notes Casella Chairman and CEO John W. Casella. "We are excited to find an opportunity to provide our expertise and services to a forward-thinking customer like BD to help enable new streams of sustainability and resource management. We're pleased with the outcome of this first phase and look forward to continuing to expand on these results and provide solutions to one of healthcare's most pressing waste issues."
Companies in this article