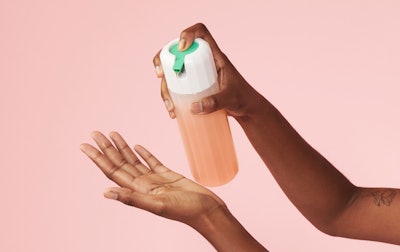 With learnings in hand from the launch of its first refillable/reusable product, a line of deodorant with a reusable base and refill pods that use 50% less plastic than traditional deodorant, in 2022 D2C body care brand Myro added another Refill-at-home product line to its portfolio. The newest launch comprises body wash products made with essential oils and 100% natural fragrances that are vegan, cruelty-free, and sulfate-free. The refillable/reusable system consists of a durable, PETG bottle with pump dispenser—"Made for keeps, not the landfill"—coupled with body wash concentrate in a 1.5-oz squeezable aluminum tube.
---
---
One of the features household cleaning products and personal care products have in common that has made them such an appropriate fit for Refill-at-home systems is that many use water, something consumers can easily add at home. However, while it seems like an easy switch for brand owners—supply the concentrate, and let consumers mix it themselves—Myro CEO Greg Laptevsky shares that formulating a concentrate for a product that can be prepared at home is anything but. "You're constantly balancing three things, and it feels like you're playing a never-ending whack-a-mole game," he says. "You solve for one product by creating an unintended consequence somewhere else."
The three considerations, he explains, are the concentrate-state product profile—how much you're diluting, its temperature profile, its packaging compatibility, etc.; the diluted-state product profile—consistency viscosity of final product, skin feel, skin benefits, lathering experience, consistent scent experience, etc.; and dilution—how easy it is to mix, how it works with 13 different types of tap water profiles around the country, its viscosity and recyclability profile, etc. "And that's before you get into production trials," Laptevsky says. "Then you go back to the drawing board and do this again with a different set of problems to solve."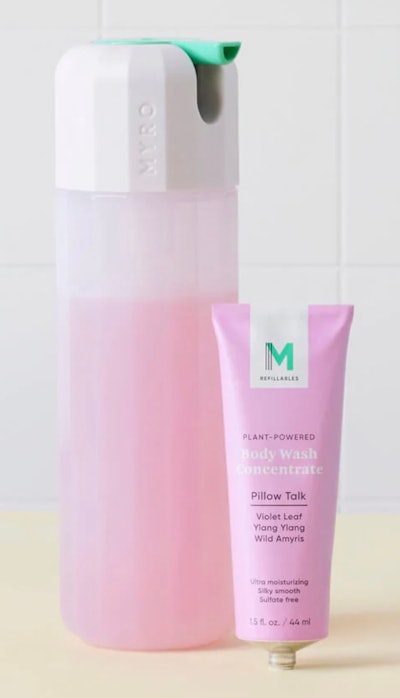 But solve them Myro did, creating a gel-like concentrate in three scents—Chill Wave (cucumber, jasmine, and spearmint), Pillow Talk (violet leaf, ylang ylang, and wild amyris), and Solar Flare (orange, juniper, and sunflower)—that are said to be ultra-moisturizing and silky smooth. The concentrates come in a 100% aluminum tube from a supplier based in Spain. "The tube feels very squeezable without feeling forced, which was an important solve for the viscosity profile of the product and the overall dilution experience," Laptevsky says. "When you see it, you immediately want to squeeze it. We've seen this time and time again in consumer research and now live with the body wash debut."
---
---
As with the company's reusable deodorant case, the dishwasher-safe body wash bottle was designed to be gender-neutral and beautiful enough to keep. The container has a transparent body with a ribbed design that echoes the design of the deodorant case. The screw-on cap incorporates a pump dispenser, whereby product is dispensed by pushing down on a button on the top of the cap. The container is sold with a paperboard band around it that contains marketing messages and instructions for use. When the band is removed, the only branding on the container is the Myro logo on the side of the pump. As for durability, Laptevsky shares that the only part of the bottle that has a lifespan is its pump, which research has shown can be reused for approximately 10 years.
Myro's line of body wash products is available on its website, as well as on Amazon and Target.com and at Bed, Bath & Beyond and CVS, and is priced from $18.75 to $25 for the starter kit (containing the bottle and one refill tube) and approximately $15 for a refill.
Of the launch of the body wash line, Laptevsky says it's been extremely positive. "A lot of people are referencing a 'magic moment' of turning tap water into body wash—all waste-free."
---
---