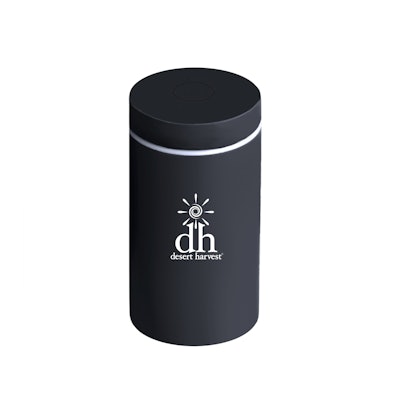 Desert Harvest
Nutritional supplement brand Desert Harvest is an established manufacturer of aloe vera based supplements and skin care. Based in Ellsworth, Maine, the family-owned company is in its 29th year of business and is run by CEO Heather Florio.
Contracting out to organic aloe vera farms in the Caribbean region for their high nutrient content of volcanic soil, Desert Harvest sets up temporary on-site processing to preserve the nutrients, and then brings the preserved product to its facility in Texas to finish off the process and package the products.
E-commerce is the company's primary sales channel, though it offers limited retail distribution through some pharmacies and hospital-based clinics. Florio told HCP that being an established e-commerce company was helpful during the initial first year of the pandemic, as no pivoting was required to maintain the flow of operations and sales.
Florio said Desert Harvest is "always looking for new ways to innovate," and the search for more sustainable packaging is always top of mind. "Any way that we could find to make something more sustainable, whether it's not printing materials in our office, or the boxes that we use to ship our products, or the paper that goes in those boxes. We're constantly thinking about how we can make things more sustainable in our farms and in our delivery vehicles." Desert Harvest is reported to be the first US supplement company to abandon single-use pill bottles in its packaging.
Plant-Based Compostable Bags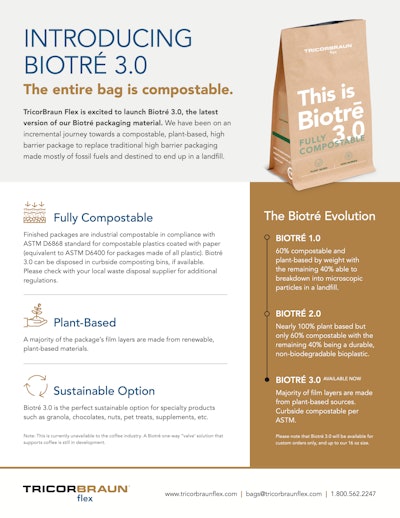 The company works with supplier TricorBraun, who makes the bottles the company currently uses for its supplement line. When TricorBraun reached out to Florio about a new plant-based bag they were developing, Florio said, it was a fortuitous time for us" as they were ready to switch from their current single-use plastic bottles. The bags will be made from TricorBraun's Biotre 3.0, a newly developed flexible packaging film that is made from renewable plant-based resources such as wood pulp and is home and curbside compostable. The bags will be printed by TricorBraun with plant-based inks, and will have a seal on the packaging to show the consumer that the bags are compostable and biodegradable.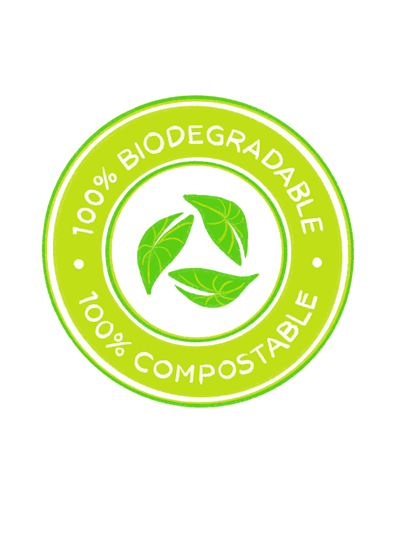 As it transitions the packaging for the entire supplement line, Desert Harvest will begin in April with its "flagship product," Super-Strength Aloe Vera capsules, and will move all 13 supplement SKUs to compostable bags over the course of the year with future plans to implement changes to the packaging of the skincare line.
In the Texas facility, product is encapsulated and bottled on an automated pharmaceutical line. Florio said, "the great part is, we're going to be able to use those bags on the line. And it's going to save energy for us because we're going to go down from about a seven-step process at this point to a three-step process." With the bags, the packaging process will eliminate steps to sterilize bottles, add cotton, inner seal, and lidding.
Smart Bottle
In the coming year, Desert Harvest will also be offering customers the option to purchase refillable, rechargeable, Bluetooth-connected smart bottles featuring an app that tracks pill usage, pushes refill reminders, and more.
Florio said Israeli company ImpacX reached out to the company about their new smart bottle technology, and "we were very excited because it was very much a product that they're looking to make recyclable and sustainable. So how could we then get rid of our plastic bottles and get rid of single-use and utilize this at the same time?" She added, "We're the first in the United States to offer their technology and we will have exclusive rights to our market for six months from launch."
The smart bottle technology was initially developed by ImpacX for water bottles, with the technology to remind users to drink the right amount of water. The same patented technology was used to develop the smart bottles for Desert Harvest. Refills will come in the new compostable plant-based bags.
---
---
The ImpacX-developed app will track the customer's usage, remind the user to re-order when running low, and will even tell them if they've taken their daily dosage by showing a red or green color between the lid and bottle. Said Florio, "it gives you great metrics that you can track through this app anywhere. It will give us a whole series of metrics that will be able to help us improve. The contact with our customers, the reminders, how they're utilizing the product. It's really going to help us be able to communicate better with our customers."
The smart bottles are made of stainless steel and have a battery with an approximate five-year shelf life. And though the bottle doesn't require charging, it does include an optional charging cord. When the bottle's usable life cycle has ended, the customer receives a postage-paid label to return the bottle to Desert Harvest, where it will be recycled through ImpacX. Florio said, "they can reuse the materials to make new bottles so that we're not putting more waste into landfills. And then, my hope is that eventually, over time, that other people will also begin to take on this technology so that we can eventually get rid of single use plastic in the entire supplement industry."
In another sustainable benefit, ImpacX will work with CleanHub, an organization that spearheads the removal and processing of ocean waste. Said Florio, "For every bottle sold, 1000 pounds of trash will be removed out of the ocean, and we'll be able to display that incrementally as it happens. It's a program that ImpacX spearheaded to be able to make that happen - it is something that they developed with the water bottles, and they'll continue to do with the vitamin bottles. I think it's going to be 'lead by example.' I hope that we can lead by example, and then others will follow suit. ImpacX developed this technology. And I hope as it goes along that many more people will take advantage of it."
Future Plans
Florio said Desert Harvest would eventually like to move the skincare line into more sustainable packaging as well. "I would love to look at the skincare. We get into a whole set of complexity of challenges that need to be solved. We're looking at liquids. How can we make the packaging of liquid more sustainable? You know, it's easy with supplements to go to a bag, especially when our suppliers developed a plant-based option. But when we start to look at skincare, what do we have for sustainable options that are out there? And we haven't found any. So, I think we're going to have to look at developing our own and figure out what that looks like for us. So that is the next product development. I think it's going to be a myriad of things for the skincare just because it's a little bit more complex. And we have a variety of different products."
Companies in this article