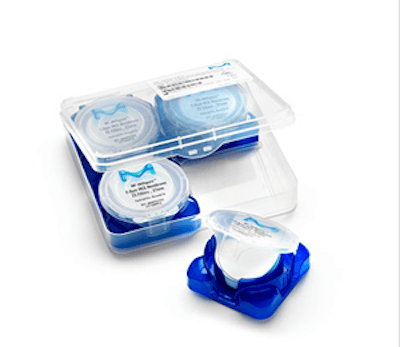 For an organization with more than 2.5 million SKUs and associated packaging, it would be a colossal undertaking to upgrade packaging to improve sustainability.
Where some might say that it's too much to change, MilliporeSigma feels that their global reach and volume is actually a reason to make the changes.
"We're not a brand that's necessarily in the public limelight, but so many people around the globe use our products," says Jeffrey Whitford, Head of Global Corporate Responsibility and Branding at the company. "We send out so many materials, it's a really important opportunity for us to make sustainability changes on a grand scale."
What is SMASH?
The SMASH Packaging Plan is MilliporeSigma's four-year initiative to use less packaging, select more sustainable materials and make packaging easier to recycle.
The project, spearheaded by Fabien Thibault, Global Manager of Product and Packaging Sustainability, and Whitford, sets new standards and goals in the following four key areas while still meeting performance requirements and transit safety regulations:
Shrink—Reduce the amount of packaging

Secure—Achieve zero deforestation

Switch—Improve plastic sustainability

Save—Maximize recycling
The four goals include specific targets for 2022, and MilliporeSigma plans to transparently report progress toward these targets.The company notes that nearly 90% of customers surveyed consider sustainability important.
According to Thibault, there are two types of targets: new product packaging and existing packaging. For the former, new packaging standards will be implemented during the product development process.
Initiation
Through the acquisition of Sigma-Aldrich by Merck KGaA, Darmstadt,Germany in 2015, the organization looked at its packaging and how it would rebrand, "which provided a really great opportunity to start this process," notesWhitford.He came from the Sigma-Aldrich side and Thibault came from Merck KGaA, Darmstadt, Germany. "So we unofficially started by requiring these sustainability functions and Fabien formalized them with the larger SMASH initiative. We were able to take advantage of the massive operational change within the business, because that's one of the things that holds initiatives like these back. People say, 'We don't want to mess with the whole supply chain.'"
Thibault adds, "This is a four-year approach, progressing from now to 2022, though we started to work on some parts with internal partners earlier to define a roadmap." This effort includes the packaging sourcing group, the global packaging material group and the distribution group, who will also develop tools to measure the characteristics of the new product packaging.
Early progress
The team is already hard at work, and has a few examples of the changes being made.
Shrink: For an improvement to meet the shrink goal, U.S. personnel worked on the redesign of a packaging system composed of many plastics. "With this project, we were able to reduce the amount of plastic needed for the package by 22%. When we look at the consumption for one year, it's quite significant.
"Of course, we have constraints when we want to change what customers receive. But we have a specific initiative aimed at improving our distribution packaging used to ship MilliporeSigma products to customers."
Deforestation:The company has started to run what they call a deforestation survey among their wood- and fiber-based packaging vendors. The survey questions factors such as:
Sourcing practices
Characteristics of the packaging materials they supply, for example the volume or amount of material and percentage of recycled content
Their potential for sustainable forest certification
Thibault says, "This is an important step because it will allow us to identify the characteristics of our vendors and packaging materials, and identify where we have risk and where we have opportunities for improvement."
Currently, MilliporeSigma has certified vendors that supply certified materials standard, as well as vendors that offer certified materials as an option. There are also vendors who are not certified. "Part of the improvement plan is to work with existing vendors to find solutions to improve and increase responsible sourcing," explains Thibault."We want to increase the percentage of certified materials but also increase the percentage of recycled content, for example, of our corrugated boxes for shipping."
Switch: The "Switch" goal is about increasing plastic sustainability, notably by using plastic materials with lower environmental impact and reducing materials produced from chemicals of concern.
The team set a target to reduce EPS use by 20%, and has already worked on a series of projects replacing EPS with fiber-based products. Thibault explains, "In the past, we used many EPS inserts to protect glass bottles during shipment. Today, we have about 2 million inserts replaced annually that were EPS, now using molded-part inserts made of recycled paper fiber."
The team goes through a series of tests to guarantee the product protection is as good as with the original packaging. "That's why it takes time, we have to validate it properly," says Thibault.
Collaboration with a specialist biotech company
Another recent packaging reduction example was achieved through customer collaboration. A type of large filter had been packaged individually, but working with the end user,the team was able to create a bulk packaging solution. This not only reduced the amount of packaging and all the related impact during shipment, but also allowed this specialist biotech company to reduce the time needed to open and manage packaging at their site, meaning fewer resources and less waste.
Challenges
It's an extremely complex network to operate in, says Whitford. "We have 60 locations where we're manufacturing and packaging products ourselves. Then we have 130 distribution centers around the world. If you just look at the sheer number of the pieces and parts, it's over 300,000 products, more than 2.5 million SKUs of products and then the packaging that goes with it. That gives a sense of the scale in which Fabien is having to network to get change across the organization."
Finding new materials is one thing. But with the variety of materials they deal with—chemicals, biologics, cold chain shipments and more—there are associated regulations for transit, hazardous materials, dangerous goods, etc. "That's when it becomes more interesting because you have to get over that hurdle for people who are on the operational side of things," adds Whitford.
For all of these changes, MilliporeSigma has both an internal lab for package integrity testing as well as an outside lab. Whitford says Thibault was instrumental in planning ahead and engaging partners earlier on, "rather than us as corporate responsibility swooping in and saying you need to do all these things, without thinking about the operational side." Key factors in the plan's progress have been partnerships with operations colleagues and thinking ahead about minimizing the impact on their workloads.
"We are changing the mindset of operations from always thinking about cost, and instead thinking about packaging as a competitive advantage. It's helping to differentiate us," adds Whitford.
Though personnel are motivated, there is no quick-fix. Whitford notes, "You always want to push things faster. With this timeline, I'm slightly shocked that it took us this long to get here,but the reality is you have to give yourself some room with the complexity of organizations of this size. What we're trying to accomplish, it takes time."
Sidebar: Getting creative
And what about bio-based plastics? The duo explains that essentially all materials are on the table as they explore options. "We had a great new hire on our packaging team recently and he's brought a wealth of ideas and openness. We're looking at ocean plastics and how they might fit in our supply chain, as well bio-based plastics. What's interesting in bio-based plastics, is, first, if we can move out of petroleum-based plastics that's great, and second, we as a business are creating markets for bio-based greener chemistry applications," says Whitford.
The team is very careful in its selection. "When you start getting into materials that are food-chain related, such as mushroom-based packaging, it becomes trickier and you get operational concerns. We have to consider a range of factors, that might appear far out like 'what if an animal is attracted to this?'We're focused on what offers the highest likelihood of operational success throughout the supply chain, and we want to think through all potential kinds of catches."
Companies in this article