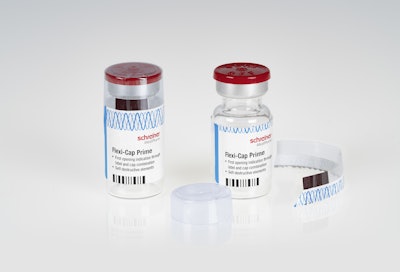 Schreiner MediPharm, a provider of specialty pharmaceutical labeling systems, introduces its Flexi-Cap Prime label-cap combination designed to protect the integrity of original medicine containers, and help prevent illegal reuse through clear, irreversible first-opening indication. The Flexi-Cap Prime is the latest addition to the company's Flexi-Cap portfolio of security systems.
Flexi-Cap Prime has a complex construction, including a tear strip running through both the film cap and the label. When the tear strip is opened at the starter tab, it is made to simultaneously destroy the cap and the label so that undetected reuse of the container should no longer be possible.
Integration into a pharmaceutical manufacturer's production processes can be done without heat, and be adapted to diverse container types, shapes, and sizes while the label's design and the pharma manufacturer's brand appearance remain unchanged, acoording to Schreiner MediPharm. Further methods of securing the supply chain, such as counterfeiting protection elements, can be integrated along with Flexi-Cap Prime.
For healthcare staff, Flexi-Cap Prime is a useful addition as it is meant to ensure the integrity of the vial until its final application. Flexi-Cap Prime is designed to be easy to use and enable first-opening verification. This is in order to protect patients against the administration of ineffective and potentially harmful medications.
Companies in this article