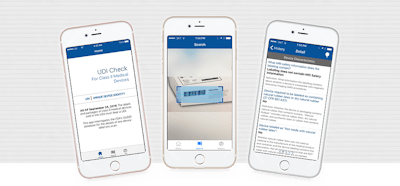 As part of September 2016's FDA medical device regulations, the labels and packages of Class II devices must bear a UDI, and data must be submitted to the global unique device identification database (GUDID) database. Authentag, an information and technology services company, has created an app for checking medical device identification information.
At the request of clients, Authentag built the "UDI Check" mobile app to scan Type II medical devices and detect the UDI from the barcode on the label. This technology will allow manufacturers, patients and medical technicians to access information from the FDA's GUDID database for a given device.
According to the company, the app uses FDA Application Programming Interfaces (APIs) to check if a device's barcode is correctly formatted and obtain the most up-to-date data on the device. Authentag is looking to add more functionality in the future, including keeping records on whether the device was used, user shipping information and a way to communicate with the device manufacturer.
The app is available for Apple iOS or Android phones. The company notes that, when used in conjunction with the Authentag system, medical departments can use the app to track medical device inventory and share information about a device internally, or with other departments in a company.