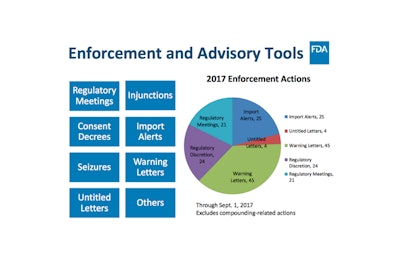 FDA's Office of Manufacturing Quality (OMQ) at CDER evaluates compliance with current Good Manufacturing Practice (cGMP) for drugs based on inspection reports and evidence gathered by FDA investigators. The office also develops and implements compliance policy and takes advisory actions to protect the public from adulterated drugs in the U.S. market.
At the 2017 PDA/FDA Joint Regulatory Conference, Francis Godwin, Director, Division of Drug Quality II Office of Manufacturing Quality Office of Compliance, talked about the trends he's seeing in CDER's compliance and enforcement.
Godwin said that there's been a spike in OMQ warning letters this year. Of the 119 enforcement actions OMQ's taken through September 1, 2017:
45 have been warning letters

Import alerts also accounted for a big share at 25. Import alerts occur when the issues are egregious enough to block a drug from coming into the U.S.

24 have been regulatory discretion activities. Typically, these scenarios involve a manufacturing issue with a medically necessary drug, where the Office will work with the firm to remedy the issue.
He noted when they run into foreign drug manufacturers without experience in cGMP or the FDA, "You get a spike. It's not a change in the threshold, it's that the firms being inspected are different from what they've been a few years ago."
Recent warning letter trends
Godwin highlighted six interesting warning letter trends:
Data Integrity

Contract Manufacturing

OTC Ophthalmics and Particulates

Supply chain information

Controls Regarding Economically Motivated Adulteration

Rudimentary CGMP (More often for non-application/OTC/monograph drugs)
He noted that more than five warning letters in 2017 have been issued to contract facilities, product owners, or both.
Companies in this article