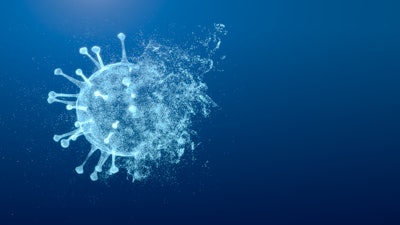 Regulation EU No 536/2014 on clinical trials—a binding legislative act for each member state, overruling national law—came into force on January 31, 2022, to simplify clinical trial preparation and activation. With it will come many changes that will impact study startup processes and timelines, expiry labeling on primary and secondary packaging, and study administration methods such as direct-to-patient.
An XTalks webinar panel discussion, "How to Avoid Significant Delays in Multi-Country Studies Due to EU 536/2014 Clinical Trial Regulation," made note that before the regulation, most tasks required to start enrolling patients could largely be planned and managed independently, with minimal coordination between study, country, and site project managers. This previous method put the focus on the first country and site approved, knowing additional activities would follow, which made for decentralized, unsophisticated planning and management. The regulation, however, represents a paradigm shift to last country and site ready, with any missing content required for the study, country, or site approval delaying all countries and sites. This can significantly impact study timelines.
Elvin Thalund, director, industry strategy, Oracle Health Sciences explained in the webinar that the previous study startup dynamic, at least as far as it concerns European countries and sites, required clinical sponsors to contact potentially over a hundred different regulatory agencies to get the study up and running, whereas the new setup will require only one or two submissions through the clinical trials information system (CTIS).
Though this simplifies one aspect of study startup and won't allow each member state to enact its own laws and interpretations of directives, creating specific challenges for clinical sponsors as done previously, it does require more time before clients can begin enrollment. Where the previous method took six to eight and a half months, the new method will take eight to 11 months to identify sites, select sites based on feasibility and need, and activate them. This is because the new EU regulation will not allow the selection process and activation process to run in parallel.
Instead, the new regulation splits the submission process into two parts:
Part 1: the reporting country, which is an EU regulatory submission, requiring submission of study material and product material
Part 2: the member states concerned, which is a country regulatory submission, country IRB or IEC submission that requires submission of recruitment material, patient material, principal investigator, facility information, indemnity, and localized study material
The critical elements, as noted by Thalund, are first the product, study, and localized study material; and then the principal investigator and facility information. As a regulation, the timeline is inflexible and fixed and aligned across all member states, causing clinical sponsors to adapt in order to operate within the framework.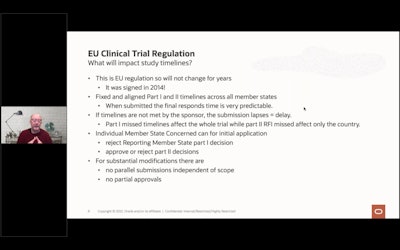 If the timelines are not met by the clinical sponsor, then the submission lapses and delays and can even require a restart. So if Part 1 timeline is missed, it affects the whole trial timeline, and if a Part 2 timeline is missed, it only affects the country of that particular submission. Though if that country is critical for the study, it obviously will affect the entire study.
Other important factors that can affect study timeline are the individual member states' final decisions as each can reject Part 1 and Part 2 decisions, and substantial modifications, which must be submitted after the initial Part 1 submission is complete. The regulation does not allow for partial approvals as well.
Pierre Omnes, executive director, site start up and regulatory, Syneos Health, explained that individual Part 2 applications can be submitted at different times based on the amount of information available for the desired sites after the conclusion of the Part 1 acceptance. He cautioned to include as many countries in Part 1 as you think will be useful first as you don't need to wait for the decisions to be granted in all countries to submit Part 2 applications, as long as they were included in Part 1. To include a country not listed in Part 1, you must follow the additional member state procedure, which has different criteria.
Regulations and packaging considerations with expiry labels
In the first part of a webinar series, "The Evolution of Clinical Trial Packaging," put on by Essentra Packaging—a global manufacturer of cartons, leaflets, and labels that specializes in the pharmaceutical industry, as well as beauty and personal care—called "The Implications on Clinical Trials Labeling Due to Annex VI Changes and Patientricity," changes, issues, and possible solutions for Annex VI expiry labeling were discussed.
When the EU 536/2014 Clinical Trial Regulation was born, Annex VI had an unintended effect on expiry labels which presents various challenges to sponsors. Annex VI chapter nine stipulates that the expiration date is required to be printed on the label.
Joe Monteiro, technical account manager, clinical trials, Essentra Packaging, listed in the webinar a number of challenges that this poses for sponsors: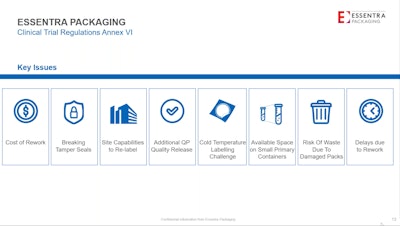 Increased cost of rework, especially around kits, which have multiple primary containers per kit, each required to have an updated expiry label
Purchase of new labels for relabeling, which must be performed in a controlled GMP-compliant environment under quality QP release—this also brings depos under careful consideration concerning site capability
Added cost of releasing supplies
Potential for labels on the outer pack being broken during relabeling, increasing risk of damaged packs
Biological drugs taken out of cold storage for pack labeling, which increases the risk of damage to the drug
Careful selection of label materials and adhesives for cold temperature applications
Consideration of space available on small primary containers, such as syringes and vials—consider future proofing the design for relabeling
Potential for added waste and delays to the additional packaging requirements that Annex VI may present
Monteiro explained that the industry had been proactively searching for and providing guidance on potential solutions to these challenges, though he points out that no one solution will be a fix-all. Oftentimes, sponsors will need to apply multiple solutions to fit their needs.
Though the long-term solution would be an amendment to the regulation for the expiration date to be on the primary packaging, a solution suggested by the European Federation of Pharmaceutical Industry and Associates (EFPIA) published in a white paper describing risk-based concepts on interim solutions on expiry labels is to label the primary container with the initial expiry date and include a statement referencing the outer pack for the most current expiry date. This solution, however, is only for consideration as it has not been accepted by the European commission.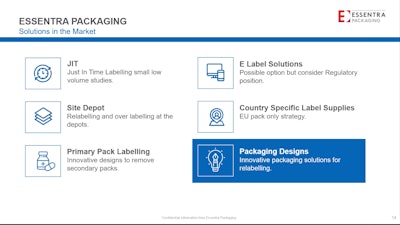 Non-profit industry group, TransCelerate, whose mission is to collaborate across the biopharmaceutical research and development community, proposes an electronic label solution with a basic single panel, which would contain product information and a barcode. A participant could then scan the barcode using a smart device, which would link them to all necessary information regarding the medicine they are taking. However, this solution is not yet accepted from a regulatory standpoint, but a dual strategy of an e-label and a conventional label on the same pack may serve to introduce the concept into the sector.
The International Society for Pharmaceutical Engineering (ISPE) has also published a white paper that mentioned e-labels as a potential solution as well as operational strategies, such as limiting the batch sizes and the use of just-in-time labeling, which would entail keeping supplies at a central packaging site and printing labels with the latest expiry date just prior to distribution. Sponsors will need to keep in mind additional time for printing, packaging, and releasing the product. This option is applicable for small volume studies but may prove risky and inefficient for medium- to large-sized studies.
Another solution discussed by Monteiro was labeling supplies based on countries and regions, which would entail an alternative packaging arrangement with an EU-only supply of products that are labeled with the expiry date. Though this adds additional complexity in managing multiple sets of supplies, it could be considered in the interest of not disrupting your entire supply chain.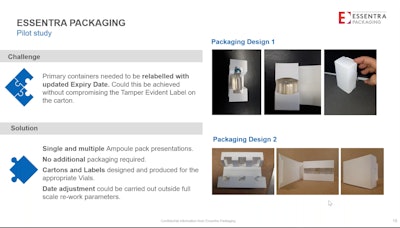 A pilot study conducted by Essentra provides another solution in unique packaging designs. The challenge set was to relabel the expiry dates on vials that had already been packed and sealed, without compromising the tamper evident label or causing damage to the pack.
"We decided to do a carton design, which would encompass a single and a multiple ampoule pack presentation," said Monteiro. "The solution we came up with was a cradle design, which ensured tamper evident integrity. The carton consisted of an internal panel opening, which would allow for the primary container labels to be overwritten or relabeled. It also consisted of a hinged close wraparound cover for lightfastness, transport stability, and importantly product security."
Essentra successfully manufactured, released, labeled, and packed 20 cartons with vials stored under cold ambient temperature conditions. The company was then able to relabel the vials without breaking the tamper evident seal or damaging the packs. No additional packaging was required for the vials in relabeling.
Direct-to-patient considerations for clinical studies
Diarmuid Wilson, Essentra's packaging business development director focused on clinical trials, discussed in the same webinar the impacts of direct-to-patient (DtP) due to Annex VI as well as the COVID-19 pandemic.
Throughout the beginning of the pandemic, the impact of lockdowns and other factors, including a focus on COVID trials, resulted in a decrease of clinical trial startup, which recovered in the first half of 2021, thanks, in part, to DtP. This patient-centric approach removes a degree of complexity and burden to the patients in participating in the clinical trials. As a flexible solution, DtP use during the pandemic was intended to eliminate subjecting patients to additional risk while maintaining continuity of care by preventing treatment delays.
Wilson said biopharma companies have particularly been adopting this administration method and that many more sponsors plan to include some form of DtP or hybrid solution in their future protocols. A review in the U.S. on 2021 data quoted in the webinar indicated a significant drop in patient recruitment when further than 41 kilometers (~21 miles) from sites. According to a 2014 study by ISPE, 78% of patients say they would prefer to have medications delivered to their home versus traveling to a clinical site.
Wilson listed the benefits of DtP over traditional trials:
Traditional trials aren't always convenient for patients due to location, schedule, and lifestyle, which can lead to under-enrollment and high dropout rates. The COVID pandemic has also made patients more unwilling or unable to travel
The DtP approach can expand patient demographics, reducing geographic barriers, which then makes it more viable to address rare diseases
DtP has the potential of supporting patient compliance and adherence—which could increase responsiveness—and reducing trial costs
Sponsors will no longer need to store clinical and ancillary materials for the duration of trials
DtP can reduce sourcing, cost, and expiry relabeling of bright stock, also minimizing waste (as in traditional trials shelf life is limited and subject to ongoing stability programs), often there is a need for continuous expiry extension
"As illustrated in the traditional supply model inventory, our finished inventory is built up and stored at a central location and batch-shipped to a clinical site. Most common with the patient-centric approach via DtP, clinical supplies are first sent to the clinical site, who will then arrange shipment to the patient's home. The alternate model bypasses the clinical site altogether, and instead uses a central pharmacy to distribute the supplies directly. Hybrid models are also common," Wilson explained. He summarized, "Potentially, the model may deliver efficiency, shorter timelines, and reduced costs."
Wilson went on to describe issues surrounding cold chain. Demand for biologic, cell and gene, and orphan therapy trials is expected to be highly variable and material is often in short supply and very expensive. Typically, sponsors will have to pool supplies in a regional hub-and-spoke network to expedite order management. To support the flexibility of this trial delivery, the secondary packaging needs to mirror the approach. The packaging also needs to ensure the quality of the medicinal products or placebos, taking into account variables such as temperature, humidity, and light sensitivity.
Seeking secondary packaging partners with capabilities that support improved timelines is a suggestion Wilson said can minimize sourcing complexity. He lists other areas that will impact the packaging and communication options that will need to be considered for the trial:
Transportation
Timing definite delivery needs
Product safety in the home
Dexterity
Patient administration and adherence
Returns of samples or unused supplies
Chain of custody to regulatory standards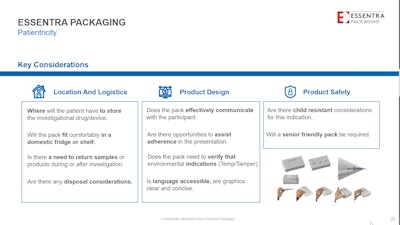 He recommends these considerations be addressed as early on in the trial as possible to better meet goals and timelines. DtP brings in another line of considerations not previously included in packaging briefs, which revolve around what bringing a trial into the home means for patients and their families as well as satisfying regulatory demands within that environment. Clinical trial companies can manage these considerations on their own, or by turning to focused packaging suppliers who can provide valuable insights and structure.
Wilson explained that in the case of a packaging design center, the focus is split into three care areas: the design element, packaging rationalization for supply chain and shipping optimization, and enhancement of added value features or smart packaging options.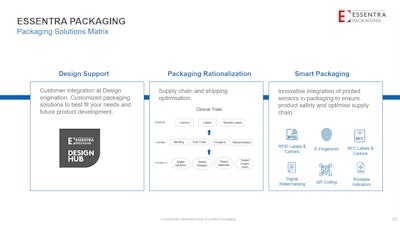 For the design element, Wilson suggested "having experienced technical experts [to] develop conceptual packaging [for briefs]. Coupled to that process, it's beneficial to have a set of grounded solutions previously trialed and tested, which can shortcut development and address questions that are not directly related to the specific parameters of the trial in question, but speak to the ability to be agile and flexible." These solutions could include cold chain, or predesigned book or label presentations that can match required presentation and language needs.
Smart packaging options will become increasingly important as DtP drives further AI and adherence parameters, and can include solutions such as RFID or NFC labels to capture transmitted data, time or temperature indicators, or have child-resistant (CR) parameters included. Abiding by regulatory standards, these technologies and packaging solutions will enhance the trial environment, Wilson asserted.
Companies in this article