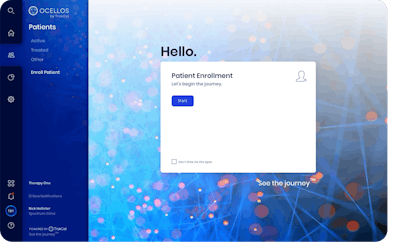 TrakCel, provider of cellular orchestration solutions supporting the cell and gene therapy industry, announces the launch of the General Availability release of OCELLOS by TrakCel (OCELLOS), its new next-generation cellular orchestration solution.
Going beyond Chain of Identity (COI) and Chain of Custody (COC), TrakCel has used Salesforce(R) to develop a solution-architecture that offers interoperable Base Modules that are ready for configuration 'out of the box'. These will serve most of the needs of the cell and gene therapy value chain from development through commercialization.
TrakCel's experience in managing a broad set of live implementations (CAR-T, MIL, TIL, PCV, CRISPR) in allogeneic and autologous settings has led to the development of the initial set of Base Modules. The Module Library, reported to be the largest in the industry, is growing regularly based on community demand, allowing TrakCel to further add new capabilities to OCELLOS. 
TrakCel has partnered with Mulesoft (TM) to develop an Integration Hub that centralizes integrations with service providers and utilities into one, API (Application Programming Interface)-sharing module.  The number of live integrations is growing with service providers, information systems and other utilities.  The Integration Hub allows for powerful patient service and business decision making flexibility, reporting and analysis.  
The system is designed for configurability, useability, and scalability as well as to improve visibility into value chains and to provide the flexibility the rapidly changing environment requires. TrakCel can offer OCELLOS as a ready-made, end-to-end solution to manage the value chain of advanced therapies.  "The General Availability of OCELLOS by TrakCel marks a leap into the future for cell orchestration solutions.  We now have a platform that is built specifically to allow scalability and flexibility.  As our Module Library and Integrations grow our clients will enjoy faster and more cost-effective start-ups and all of it will be easier to use and understand," says Fiona Withey, CEO at TrakCel.
Companies in this article