This content was written and submitted by the supplier. It has only been modified to comply with this publication's space and style.
Catalent, a global provider of advanced delivery technologies, development, and manufacturing solutions for drugs, biologics, cell and gene therapies and consumer health products, has taken on a critical role in COVID-19 vaccine production. In early 2020, Catalent's Bloomington, Indiana site was contracted by multiple pharmaceutical companies to provide vial filling and packaging of several vaccine candidates, some of which have since been authorized for emergency use by the FDA.
Because of Catalent's focus on filling and packaging for its customers at the Bloomington site, it was responsible for finding packaging and printing partners that could enable Catalent to complete the packaging process and deliver market-ready finished products. For the large-scale, high-profile operation, Catalent selected folding carton specialist Rondo-Pak of Camden, NJ and its sister company, packaging machinery provider Dividella–both part of the Körber Pharma Group–based on positive experiences working with both entities.
Like many challenges in the ongoing battle against COVID-19, time was of the essence. The pandemic stretched pharma suppliers to the very limits of their production prowess, and this project was no exception.
A COVID-era time crunch
Of the many challenges in this undertaking, time was key. Catalent was to provide vial filling and packaging for multiple customers, with 24/7 manufacturing operations, at their Bloomington facility to support production of millions of vaccine doses intended to supply the U.S. market.
To handle the large, time-sensitive order, from an equipment standpoint Catalent turned to the team at Dividella, who recommended their Dividella NeoTOP cartoning platform – a high-speed, flexible cartoner suitable for a variety of vials and injectables. Designed to offer a balance of speed and versatility, the NeoTOP platform provides an optimum balance between speed and flexibility. The cartoner is capable of inserting sturdy paperboard partitions to protect against glass breakage for this exceptionally valuable product. The modular, expandable machine also can be paired with a variety of ancillary units, such as booklet feeders.
Packaging machinery design and installation, however, takes time – time that was exceptionally precious to Catalent, its customers, and ultimately to the country at large. Understandably in ultra-urgent mode, Dividella committed to supplying their NeoTop platform in a fraction of the standard delivery time.
All hands on deck
In the meantime, though, Catalent had a more immediate need: to supply 250,000 cartons, complete with 250,000 partitions, in just TEN DAYS. What's more, they needed to arrive assembled.
Further, this was no ordinary carton: it required a complex, highly technical construct that needed to be produced, assembled, and printed with precision. Rondo-Pak also needed to consider the FDA's approval of all verbiage and artwork printed on the cartons, which in some cases can take days or weeks.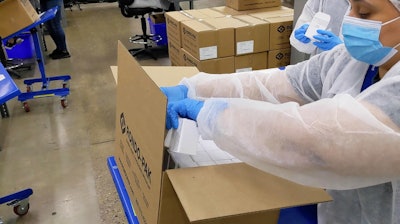 There was only one answer: all hands on deck. Rondo-Pak pressed forward with the most ambitious – and arguably most important – undertaking in the company's 75-year history: producing a quarter of a million complicated cartons in a week and a half, by hand.
Part of the reason Catalent chose Rondo-Pak and Dividella was because of their synergistic, sister-company relationship. Rondo-Pak hand assembled hundreds of thousands of cartons with partitions and, due to its close ties with Dividella, was able to make these cartons exact replicas of the ones the soon-to-be-installed Dividella cartoner would be producing—the end result being packaging for millions of vaccine doses.
As a Small Business Administration HUBZone-certified company, Rondo-Pak proudly creates employment opportunities for both skilled and unskilled laborers. One such area is the Hand Bindery team at the company's Camden, NJ, headquarters. As with most top pharmaceutical companies, there is often a need to expedite product to market, prior to having the equipment necessary for the formation of the cartons, and this department does just that. The team forms folding cartons by hand using custom tools to the same precise specifications required of sophisticated packaging machinery.
What transpired exemplified the effort, expertise, and innovation that the fight against COVID-19 has demanded. Pharma companies are meeting the demand by developing incredibly effective vaccines in record times. Manufacturing partners like Catalent are preparing those vaccines for deployment in the tightest-possible timeframes. And packaging-focused companies like Rondo-Pak and Dividella are doing whatever it takes to meet the unprecedented demand this all-important undertaking requires.
"No exceptions, no excuses," said Bob Reilley, president and COO for Rondo-Pak. "This was the definition of 'too big to fail.' Our hand assembly team, along with an in-house Dividella packaging line, make us a unique provider to the pharma and biologic supply chain. There is no other company in our space that can accomplish this and help our clients seamlessly transition through all of the stages of getting a drug to market. Our ability to print, convert and assemble under one roof gives our clients one contact point – eliminating steps in the already complex drug supply chain."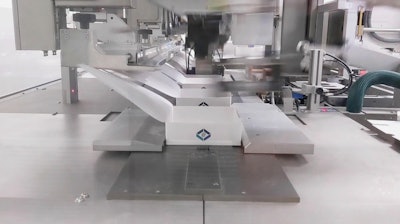 "Launching this life-saving vaccine in such a condensed timeframe is no easy task, but our experienced team rose to the challenge," said Deanne Gonsalves, VP of business development for Rondo-Pak. "At Rondo-Pak we are very proud to be the trusted provider for these packaging components and to do our part to bring this vaccine to market."
And fail they did not. Rondo-Pak leaned on a team of 70 packaging professionals plus a large support team. At peak, the team was churning out over 11,000 completed cartons per hour.
A sight for sore hands
While this manual madness was playing out in Camden, NJ, an equally important and just as feverishly-paced project was unfolding at Catalent's Bloomington facility. The customized Dividella had been delivered in record time. Once the machine was installed and validated, it was ready to pump out more than enough cartons to meet Catalent's needs.
Rondo-Pak and Dividella's extensive knowledge and around-the-clock commitment to Catalent allowed all parties to successfully meet the crucial vaccine manufacturing timeline to address the public health crisis.