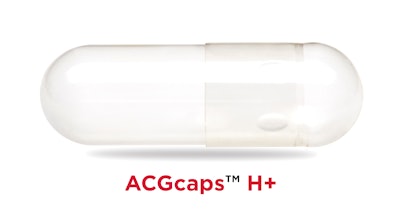 ACG Capsules (ACGC)—part of ACG Group, a supplier of end-to-end manufacturing systems for the pharmaceutical industry—has introduced a line of HPMC capsules designed to meet a wide variety of pharmaceutical and nutraceutical needs. The ACGcaps H+ capsule with no gelling agent is made to be suitable for hygroscopic and moisture-sensitive formulations. It also uses clean label and vegetarian capsule options.
ACGcaps H+ Capsule is designed to comply with requirements of dissolution performance across all biological pH range, since it is pH-independent and non-ionic. These capsules also reduce cross-linking problems, which can occur with gelatin-based capsules and cause retarded dissolution performance, according to the company.
These capsules are used for filling granules, powders, pellets for prescription and non-prescription pharmaceutical ingredients, nutraceutical dietary supplements, and traditional medicines.
"The enhances range of HPMC capsules is designed to give pharma and nutraceutical customers added peace of mind by providing product protection and desired formulation release. The new line contains no gelatin, wheat, gluten, animal by-products, or starch, so it supports clean label claims and vegetarian diets," says Selwyn Noronha, CEO for ACG Capsules.
Companies in this article