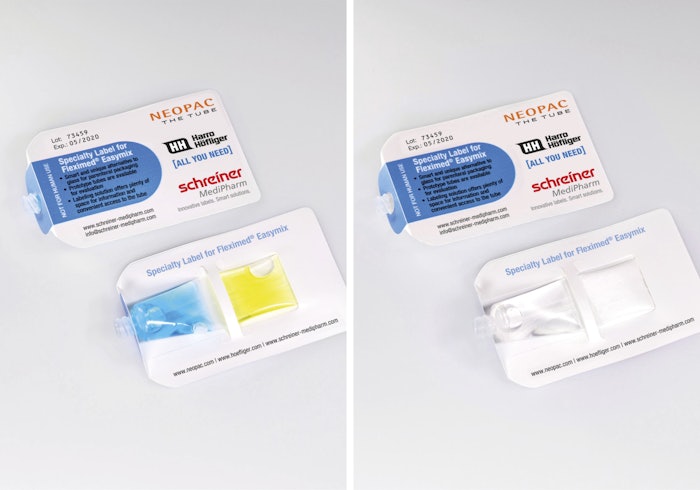 In collaboration with tube manufacturer Neopac and machine producer Harro Höfliger, Schreiner MediPharm has developed a special marking label that encloses a pharmaceutical tube like a pocket. The innovative design yields ample space for information and, with an eye toward manufacturing expediency, can be applied automatically on packaging lines.
Schreiner MediPharm designed the label for Neopac's Fleximed® Easymix tube. Comprising two separate chambers filled either with two different liquids or a liquid and a powder, the transparent tube provides an attractive alternative to conventional glass vials. The tube's contents are mixed shortly before the medication is administered by compressing the tube chambers, which are separated by a flexible seam.
Schreiner MediPharm's marking solution consists of a front and rear part that encloses the tube like a pocket with ample space for text. A cutout in the label provides an unobstructed view of the two tube chambers' individual components—an important function enabling the user to verify that the two medicine components have optimally mixed prior to administration. Another benefit: The label design enables smooth, automatic dispensing on packaging lines.
Schreiner MediPharm collaborated closely with Neopac's project partner for the tube filling and sealing processes, Harro Höfliger—a manufacturer of production and packaging equipment with expertise in engineering machinery for medical device and pharmaceutical applications.
Challenges posed in developing labels for the two-chamber tube included the geometry and the deformation of the tube, upon compression, which were not suitable for a conventional self-adhesive labeling. The label needs to accommodate an extensive amount of information, which must be inseparably connected with the tube and readily legible. At the same time, the view of the tube content should not be obstructed, and any potential for adhesive migration needed to be eliminated.
Companies in this article