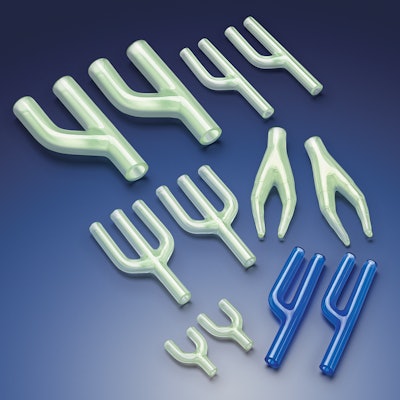 Qosina stocks a variety of Y connectors manufactured from plastisol, also known as liquid polyvinyl chloride (PVC), a material used to make flexible components. These connectors are produced through a dip molding process rather than traditional injection molding. Plastisol provides exceptional flexibility, is Class VI approved and BPA- and latex-free. Dip molding is said to be an ideal method for molding connectors as the dipping dies are cost-effective, allowing for production to be easily scaled.
Qosina offers both standard and universal plastisol Y connectors. The universal style can be cut to accommodate 3/32 in., 1/8 in., 3/16 inch and ¼ in. OD tubes. With 15 different Y connector configurations from which to choose, sample assortment kits containing a selection of plastisol connectors, and custom design services available, Qosina can provide plastisol connectors to meet the requirements of all types of projects.
Founded in 1980, Qosina is a worldwide supplier of thousands of stock OEM components to the medical and pharmaceutical industries.
Companies in this article