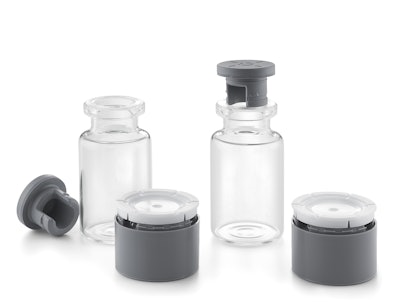 West Pharmaceutical Services, Inc., a global provider of injectable drug administration, today introduced two new offerings at Pharmapack Europe 2017.
TheLyoSeal® cap is an all-plastic, instant sealing solution for lyophilized drug products. It is designed to minimize risk associated with established lyophilization processes, while maintaining the necessary sealing requirements.
The NovaGuard® SA Pro safety system, which is pending 510(k) clearance in the U.S., aids in the protection of healthcare professionals, patients who self-inject doctor-prescribed medications, and individuals who assist self-injecting patients, from accidental needlesticks.
"We appreciate and understand that in today's healthcare environment, our customers are continually looking for new packaging solutions that offer manufacturing efficiencies, as well as products that provide an improved experience for healthcare providers," said Karen Flynn, Senior Vice President & Chief Commercial Officer, West Pharmaceutical Services, Inc. "
The LyoSeal cap provides a new option to help pharmaceutical companies safely and efficiently preserve and protect lyophilized drug products. Constructed of medical-grade polypropylene, the LyoSeal capenables complete container closure within the chamber and mitigates several common challenges associated with the lyophilization process by:
• Safeguarding vacuum and headspace content through immediate vial closure in the chamber.
• Buffering between the stopper and chamber shelves to prevent stoppers sticking to the shelf.
• Reducing the risk of glass breakage within the lyo chamber due to the spring force design.
West's NovaGuard SA Pro safety system helps protect healthcare workers and patients from accidental needlestick injury. The NovaGuard SA Pro system can be deployed using a single-handed technique and was designed to prevent pre-activation during handling. The system is compatible with ISO 1mL long glass-staked needle syringes and is transparent for ease of drug inspection and delivery. The device design facilitates easy assembly of a glass pre-filled syringe with minimal change parts and changeover time to existing assembly equipment.
Companies in this article