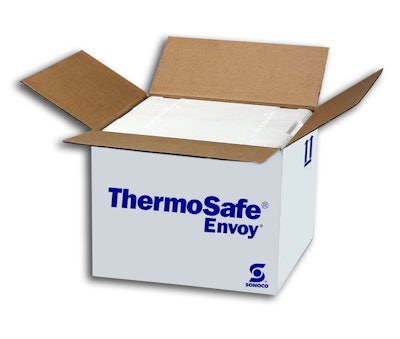 Sonoco ThermoSafe, a unit of Sonoco, has launched a series of shipping containers that reduce the distribution costs of pharmaceuticals and diagnostic products across the supply chain. Available globally, Envoy® pre-qualified shippers use four sizes of EPS containers for a range of product payload sizes in controlled room temperature as well as refrigerated and frozen temperature configurations.

The Envoy line of shippers feature modular packouts allowing customers to stock minimal SKUs and create the flexibility to change temperature configuration as needed. These shippers feature molded EPS engineered to maximize natural convection, which reduces the number of refrigerants required and improves packing efficiencies. The shippers also optimize the space available on U.S. or Euro pallet sizes, which helps drive down overall supply chain costs.
The Envoy series of pre-qualified shippers maintain controlled room temperature (CRT) and refrigerated (2° to 8° C) or frozen temperatures for a minimum of two days.

Companies in this article