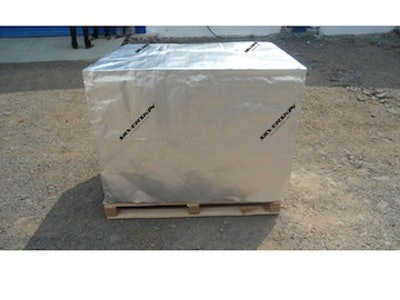 SilverSkin™ material, designed by specialist thermal cover manufacture TP3 Global, has been extensively developed and tested over the last year. Converted into thermal pallet cover sizes to suit various skid and air cargo pallet configurations, it fully encapsulates the freight to defer temperature change, protect against inclement weather, and prevent contamination.
Reducing thickness of materials (while maintaining performance) not only improves efficiency of transportation but also reduces required stock storage space. With PH300 material being less than 1-mm thick, around 100 covers can be shipped on a pallet.
Material characteristics are also key to operational ease of use. The PH300 stays in form when shaped around the pallet, making it quick, easy, and flexible to fit. The material can be cut or folded to suit the exact size of pallet, giving huge flexibility and less reliance of holding stock of too many different sizes.
Transportation of controlled ambient (controlled room temperature, CRT) pharmaceuticals face stricter attention from regulators under updated Good Distribution Practice guidelines (GDP). Product temperature limits now have to be defined and deviations have to be reported. As a result, additional thermal protection is required where ambient temperatures limits may be exceeded during the supply chain route.
SilverSkin PH300 isothermal pallet covers are available in India through TP3's distribution partner Cool Logistics India Pvt.
TP3 Global Ltd was founded in the U.K. with manufacturing bases in U.K. and India. The SilverSkin range of reflective thermal pallet covers is bringing innovative technical materials to effective use in protecting both pharmaceutical and perishable freight around the world.
Companies in this article