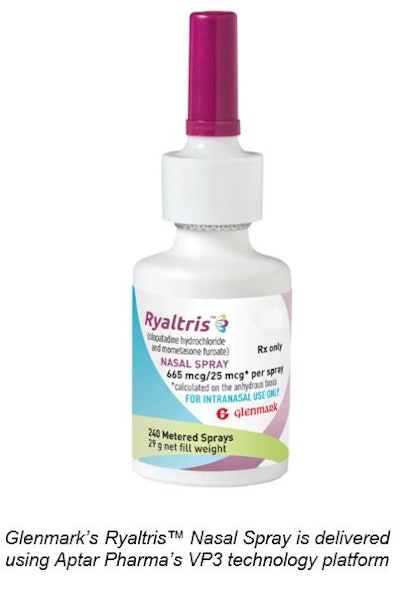 Glenmark's Ryaltris nasal spray recently received New Drug Application (NDA) approval by the U.S. Food and Drug Administration (FDA) for the treatment of symptoms of seasonal allergic rhinitis in adults and pediatric patients 12 years of age and older. The nasal spray uses the VP3 multidose device from Aptar Pharma, a provider of drug delivery systems.
Using Aptar Pharma's innovative VP3 nasal spray with a custom-designed reduced evaporation cap, Ryaltris is a metered, fixed-dose, aqueous suspension prescription combination drug product nasal spray that combines an antihistamine (Olopatadine) with a steroid (Mometasone Furoate) for the treatment of symptoms of seasonal allergic rhinitis, including nasal and ocular symptoms.
The reference pump for anti-allergic treatments
Aptar Pharma's VP3 technology platform has been the industry gold standard for multidose nasal sprays for over 40 years for anti-allergic treatments, for both innovator brands and generics for locally acting drug products. The technology complies with U.S. FDA requirements and other global regulatory authorities, with numerous customer reference products already commercialized worldwide.
The effort to bring Ryaltris Nasal Spray to market was supported by a Combination Product Documentation package from Aptar Pharma's Services offering, a comprehensive portfolio of stage-specific development packages. Aptar Pharma's dedicated Regulatory Affairs professionals and analytical scientists help customers proactively address regulatory needs to accelerate approval.
"Glenmark's constant focus is on delivering the right treatment options to the patients, using effective technology. Adapting Aptar Pharma's innovative VP3 multidose device as the delivery system for our novel Ryaltris nasal spray is yet another effort in this regard," says Robert Crockart, chief commercial officer, Glenmark Pharmaceuticals Ltd.
"This NDA approval by the U.S. FDA for a combination drug product using our VP3 multidose nasal pump further demonstrates Aptar Pharma's ability to help our customers develop and launch novel treatments," states Gael Touya, president, Aptar Pharma. "Our nasal systems' proven capabilities bring added value to our customers and further convenience for patients worldwide."
Already approved and marketed in several countries across the world, Ryaltris will be marketed and distributed in the United States by Hikma Specialty U.S.A., Inc. as part of its exclusive licensing agreement with Glenmark Specialty S.A. (Switzerland).
Companies in this article