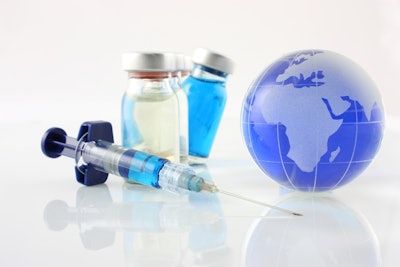 Whether it's the materials designed to improve medication adherence or the equipment that efficiently produces packages we buy via prescription or over the counter, packaging provides solutions that improve patient outcomes.
That's great, but if the actual medications we put in those packages are contaminated or not available, patients could be in a world of trouble. Drug shortages and contaminated medications continue to make headlines. Three recent examples of contamination issues follow here:
• A voluntary recall of Valsartan used to treat high blood pressure, heart failure and strokes, as a result of a suspected impurity called N-nitrosodimethylamine, or NDMA, classified by FDA as a probable human carcinogen. This was believed to stem from a production process change at API supplier Zhejiang Huahai Pharmaceuticals, in Linhai, China.
• A recall on defective vaccines from Changchun Changsheng Life Sciences Ltd. said to have caused China's $122 billion pharmaceutical industry to lose credibility due to the handling of a defective vaccine that made it overseas.
• A voluntary recall of Levothyroxine and Liothyronine, used to treat thyroid-related conditions, as a precaution because their active pharmaceutical ingredients (APIs) "were sourced prior to the FDA's Import Alert of Sichuan Friendly Pharmaceutical Co., Ltd., which as a result of a 2017 inspection were found to have deficiencies with Current Good Manufacturing Practices (cGMP)," according to FDA.
Most of us are well aware of the developing tariff issues and negotiations between the U.S., China, and other countries. While this could ignite a manufacturing trade war, a more dangerous scenario could develop just beneath that surface, and in this particular instance, it's not military-related.
Consider the Aug. 14 NBCNews.com story, "FDA recalls are a reminder that China controls much of the world's drug supply." It quoted Mike Osterholm, Director of the Center for Infectious Disease Research and Policy at the University of Minnesota and an expert on biosecurity saying, "If we were ever in an international incident with China, they would literally have their hands around our necks in terms of critical drugs. They wouldn't even have to fire a shot."
The story also interviewed Rosemary Gibson, a Hastings Center healthcare expert and author of the book, "China Rx: Exposing the Risks of America's Dependence on China for Medicine."
Gibson was quoted as saying, "FDA recalls are a reminder that China controls much of the world's drug supply. China doesn't have anything like the consumer protection laws and product liability laws like the United States does." The article says that in her book, Gibson estimates that "80 percent of the ingredients in U.S.-branded pharmaceuticals and over-the-counter drugs start out in either China or India."
In a separate interview with Real Clear Politics, Gibson warned of the dangers of a potential event that could lead to a global pandemic. The U.S. "and virtually every other country in the world is dependent on a few companies in China for the ingredients to make critical antibiotics. That's how dependent the U.S. is and the rest of the world. It's a national security issue that no one's talking about," Gibson said. (Watch a video interview with Gibson on RealClear Politics' "Full Measure With Sharyl Attkisson.")
The NBC article reminded us of the 2017 Puerto Rico hurricane that shut down Baxter's saline IV drip bags for months.
Looking for a silver lining? Perhaps there's one from Wall Street Journal's Aug. 10 article, "China's Drugs Problem Spells Opportunity for Pharma Giants." It reported that China's Center for Drug Evaluation had that week made 48 drugs eligible for "fast-track approval, without additional domestic trials. The move is consistent with Beijing's policy announced last October to cut red tape around its drug-approval processes."