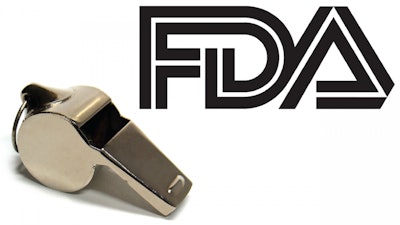 A January 31st article fromRegulatory Affairs Professionals Societynoted that the FDA released warning letters to eight international medical device and pharmaceutical companies between August 2016 and January 2017. Here's a brief overview of the offenders:
Savaria Concord Lifts, Inc. 8/3/16: failure to identify requirements for CAPA procedures.
Ropack, Inc. 8/3/16: failed to validate artificial saliva manufacturing process.
Shina Corporation 8/23/16: failed to establish and maintain procedures for implementing corrective and preventive actions (CAPAs) after receiving complaints of white sticky residue on gaskets, finding a broken syringe and as one of the company's CAPA forms does not require that information related to quality problems is disseminated to those directly responsible for assuring the quality of such products.
Biotronik SE & Co. KG 9/1/16: "process used to manufacture the coated Selectra Catheter lead introducer system lacked statistical rationale."
INCYTO CO., LTD. 9/8/16: CAPAs lack of details about the investigations conducted and effectiveness checks conducted.
Cixi Zhixin Bird Clean-Care Product Co., Ltd. 1/6/17: Quality Control Unit (QCU) failed to review and approve drug product production and control records.
FACTA Farmaceutici S.p.A. 1/13/17: original data showing failed results for multiple sterile drug products, but data the company reported showed passing results.
CTX Lifesciences Private Ltd. 1/18/17: investigators "observed rust, insects, damaged interiors, and/or drug residues" inpieces of manufacturing equipment.