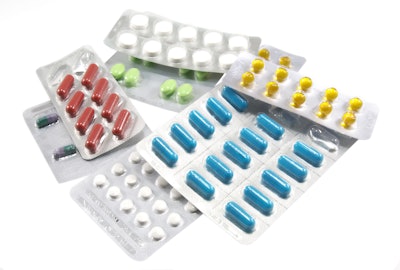 FDA Commissioner Scott Gottlieb addressed the ongoing opioid issue in a Jan. 30 statement outlining steps to help prevent new addiction, curb abuse and overdoses related to opioid products.
In the statement, Gottlieb said, "At the FDA, we believe one of our key roles in addressing the opioid epidemic is to reduce new addiction. We're exploring ways we can reduce exposure to opioids through our influence on prescribers, particularly through our Risk Evaluation and Mitigation Strategy (REMS) authorities. We're also actively exploring how we can use changes in packaging as a way to give providers better options for tailoring how much they prescribe to the clinical need. This is especially true when it comes to immediate release formulations of opioid drugs like Vicodin and Percocet, which are typically meant for short-term use.
"If more immediate-release opioid drugs, in particular, were packaged in three- or six-day blister packs; then more doctors may opt for these shorter durations of use. Additionally, provided the FDA concluded that there was sufficient scientific support for these shorter durations of use, this could provide the basis for further regulatory action to drive more appropriate prescribing."
He provided the following insight: "To illustrate the point: Suppose the dental community developed an expert guideline that said that no routine dental procedure should require more than a three- or five-day initial fill of an immediate-release opioid, and the FDA reviewed and determined that blister packs in these quantities were necessary to ensure safe use. If the drugs were then packaged in blister packs that comported with these durations of use, it could help reduce overall dispensing. More doctors might more readily opt to prescribe these blister packs instead of other treatment options.
"Today, toward these goals, we have taken a new action related to how one opioid product is packaged as a way to help address a growing problem of abuse and misuse of this product. The FDA is requesting that sponsors of OTC loperamide ‒ an FDA-approved product to help control short-term symptoms of diarrhea, including Travelers' Diarrhea—change the way they label and package these drugs to stem abuse and misuse that leaves us deeply concerned."
Gottlieb noted, "The FDA added a warning to the product label in the spring of 2017 to warn of ingesting high doses of loperamide, including from abuse and misuse. Evidence suggests that package limitations and use of unit-dose packaging may reduce medication overdose and death.
"Today we sent letters to the OTC manufacturers requesting that they implement changes consisting of packaging limitations and unit-of-dose packaging. We're requesting that packages contain a limited amount of loperamide appropriate for use for short-term diarrhea according to the product label. One example is a single retail package containing eight 2-milligram capsules in blister packaging. We asked the manufacturers to take the necessary steps to implement these changes in a timely fashion to address these public health concerns.
"I also plan to reach out to those who distribute loperamide online, through retail websites, to ask them to take voluntary steps to help us address this abuse issue. The new packaging should help make limits on sales more easily achieved. The abuse of loperamide requires the purchase of extremely large quantities. Often this is done through the purchase of large bottles of loperamide, which is a common configuration in which the pill form of the medication is currently packaged."
The statement concluded: "Today's action is intended to change how the product is packaged, to eliminate these large-volume containers. We know that many of the bulk purchases of these large volumes are being made online through major online web retailers. Appropriate prescribing practices, better packaging, and education are important steps within our statutory authority to help address the human and financial toll of opioid addiction. They can reduce harm while still providing effective pain management protocols. Today's Part 15 hearing, and the new actions I mentioned, are indicative of the kinds of steps we need to take as we confront this epidemic."
HCPC supports statement
Meanwhile, Healthcare Packaging asked the Healthcare Compliance Packaging Council (HCPC) for comment on Gottlieb's statement. HCPC is a not-for-profit trade association that promotes the benefits of unit-dose packaging that can help patients take their medications properly. HCPC's Executive Director Walter Berghahn offered the following comments:
"We found the announcement regarding Loperamide and suggested retail packaging changes to be quite interesting. Historically, FDA is reluctant to specify method when seeking change from industry. They will identify the desired outcome but leave the method to industry.In most cases this makes sense as the agency does not want to stifle innovation. In this case it seems the agency believes the solution is quite clear. I am sure they recognize that this particular change to unit dose and limited quantity will not put undue burden on the industry since machinery and packages exist to meet these needs whether in manufacturing plants or in our robust contract packaging market.
"HCPC was fortunate enough to participate in the FDA meeting, 'Packaging, Storage, and Disposal Options to Enhance Opioid Safety - Exploring the Path Forward'in December. Scott Gottlieb kicked off that meeting and mentioned unit-dose and blister packaging specifically in his opening comments. It seems that the years of evidence and numerous examples where unit dose has played a positive role in resolving problems (CDC's example of Buprenorphine Naloxone comes to mind) that the agency feels comfortable calling out the specific tool in light of the current challenge.
"This notation is evidence that the agency is following through on the statements of early December with real action in late January. [That's] great to see. HCPC is quite excited by this development."