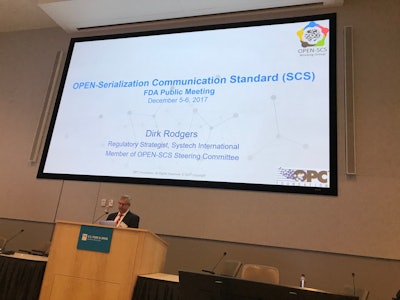 In 2023—the deadline for full supply chain aggregation—the quality of Drug Supply Chain Security Act (DSCSA) transaction documentation exchanged by trading partners will only be as good as the quality of serialization data established during initial packaging operations.
"Today's packaging solutions are not standardized and have no security built-in, leaving them susceptible to incompatibilities, inaccuracies, data loss and theft. They have no common name space from line to supply chain, and no common data structure for data exchanges, so the interfaces between solution layers become fragile, threatening data integrity."
That's according to Dirk Rodgers (shown in photo), a member of the Open Serialization Communication Standard (OPEN-SCS) Group's steering committee and Regulatory Strategist at Systech International.
Rodgers spoke at the FDA's Dec. 5-6 Public Meeting on enhanced drug distribution security, per the DSCSA, where OPEN-SCS presented its latest findings and shared its accomplishments in connection with electronic interoperability, standards for data exchange, data architecture, and aggregation and inference.
OPEN-SCS is a collection of healthcare sector companies dedicated to standardizing packaging line serialization and aggregation data exchanges. Founded two years ago by leading serialization solution vendors and manufacturers, the organization includes Abbott, Advanco, Antares Vision, WIPOTEC-OCS, Optel, Pfizer, Roche, Systech, Teva, TraceLink, Werum as founding members, and has grown to include more than 25 member companies.
Presenters at the public meeting included Rodgers and Adriano Fusco, Marketing Director of the group and Director of Strategy & Development at Antares Vision.
Building an electronic interoperable system
In the pharmaceutical sector, the lack of standardized track-and-trace-related communication has posed significant constraints on implementing workable serialization solutions. FDA's Drug Supply Chain Security Act outlines the critical steps necessary for building an electronic interoperable system that, by 2023, can trace prescription drug products distributed in the U.S.
The forthcoming electronic interoperable systems devised by the OPEN-SCS Group aims to enhance FDA's ability to protect consumers from exposure to drugs that may be counterfeit, diverted, stolen, intentionally adulterated, subject to fraudulent transaction, or otherwise harmful.
Rodgers introduced the work of OPEN-SCS, explaining its origin as a working group of the Open Platform Communications (OPC) industry consortium, and its mission to "specify functional interoperability of packaging serialization solutions to seamlessly integrate the operations and business processes across organization and regulatory bodies, aligning with other industry groups and standards whenever appropriate." He explained how OPEN-SCS cooperates with other key groups, such as GS1, ISPE, and ISA. Although horizontal data exchange with these groups is essential to success, he explained the importance of the OPEN-SCS group's focus on the vertical exchange of DSCSA data elements passed between the levels of a serialized packaging solution.
Rodgers shared news that the group's first Packaging Serialization Standard, PSS 1.0, was released in September 2017 and is currently under validation testing by nine vendors and one end user in direct collaboration with ISPE and GS1 global technical experts. The forthcoming PSS 2.0, which will address nine exchange use cases between Level 3 (site serialization manager) and Level 2 (line serialization controllers and smart devices), is targeted for release this year.
Implementing aggregation
Fusco addressed the challenges of implementing aggregation on production lines and distribution centers, and provided an overview of the solutions commonly adopted for bottles and cartons on fully automated, semi-automated, and manual packaging lines where aggregation is performed by operators with specially designed machines.
He also presented an overview of the operations of the largest distribution center in Turkey, which has been working in full aggregation mode since 2012 to comply with its own national mandate.
Fusco described the changes in SOPs and the introduction of new equipment, and emphasized the importance of accurate communication and software infrastructure, stressing the complexity of the return process, which requires additional workload to check serial numbers and either deactivate them or reintroduce them to saleable stock.
"Aggregation in packing lines and distribution is very challenging," Fusco said, "due to higher costs, complex systems, longer deployment times, potential impact on operations, additional space on the lines/packaging areas, longer line stops for installation and validation, high cost of ownership, and possible OEE reduction, particularly in the ramp-up phase and with older lines and machines."
Fusco stressed the importance of viewing aggregation as an opportunity to review current lines and operations, and consider modernization. This has the potential to increase line efficiency while introducing systematic checks at every packaging phase, thereby increasing the quality and consistency of the overall process.
View the agenda, materials and even the webcast of meeting here.
The slide deck requests can be directed to Fusco here.
Companies in this article