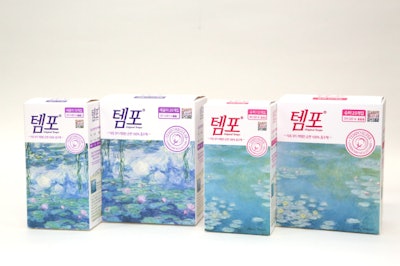 Pharmaceutical commercials always seem to have a tone of serenity, so why shouldn't that carry over to packaging. A recent Korea Herald article noted a company that's doing precisely that by introducing fine art to their packaging. Dong-A Pharmaceutical is imprinting famous works on packaging for their drugs and female hygiene goods.
Tempo, Dong-A's tampon brand, features Monet's iconic oil painting "Water Lillies" paired with purple to express the warmth and purity of a mother, according to the firm. Their cold medication Panpyrin-T Tab's packaging contains the geometric art of Dutch painter Piet Mondrian.
"By introducing familiar artworks into our product package design, we hope to become closer to our customers. We also believe that the artworks help enhance the visual appeal of our products," said an official from Dong-A.